Impress your partner with Perth's best date night spots to warm up in this winter.
Sick of staying in every night and cuddling on the couch while enjoying your latest Netflix binge? If you're looking for an excuse to leave the house this winter, then we've got your back.
Despite the dreadful winter storms, these bars and restaurants are serving up warm winter delights that'll make you want to switch up the track pants for some actual pants.
From soups and pasta to Korean food, these Perth winter date night spots aren't just about serving up comfort food, they also serve up classic winter entertainment. With board games, live music and fire-places sure to get you and your date closer together.
Helvetica
101 St Georges Terrace, Perth WA 6000
Hidden in a crowd of towers is where you will find this one.
If you are looking for something that's fancy yet laid back and a little different to make an impression then Helvetica is the spot to go.
An intimate and cozy whiskey bar serving up curated bar snacks that go well with a glass of any of their international list of whiskeys is sure to get the night off on the right foot.
To be even more impressive, Helvetica offers the choice of purchasing a bottle of whiskey and storing it in their whiskey cabinets. So the next time you return with your date, you can continue to drink from your very own bottle of whiskey.
Strange Company
5 Nairn St, Fremantle WA 6160
This one is for the newly dating singles out there.
At Strange Company, the bar staff treat you more like friends than strangers. The long wooden bar makes a perfect location to connect as you enjoy a drink from the list that's as long as a novel and pair with their packed food menu – a fan favourite being the Wagyu carpaccio with beetroot and horseradish.
Also playing hosts to live music on their patio every Sunday, Strange Company is the perfect weekend date spot.
Mrs Brown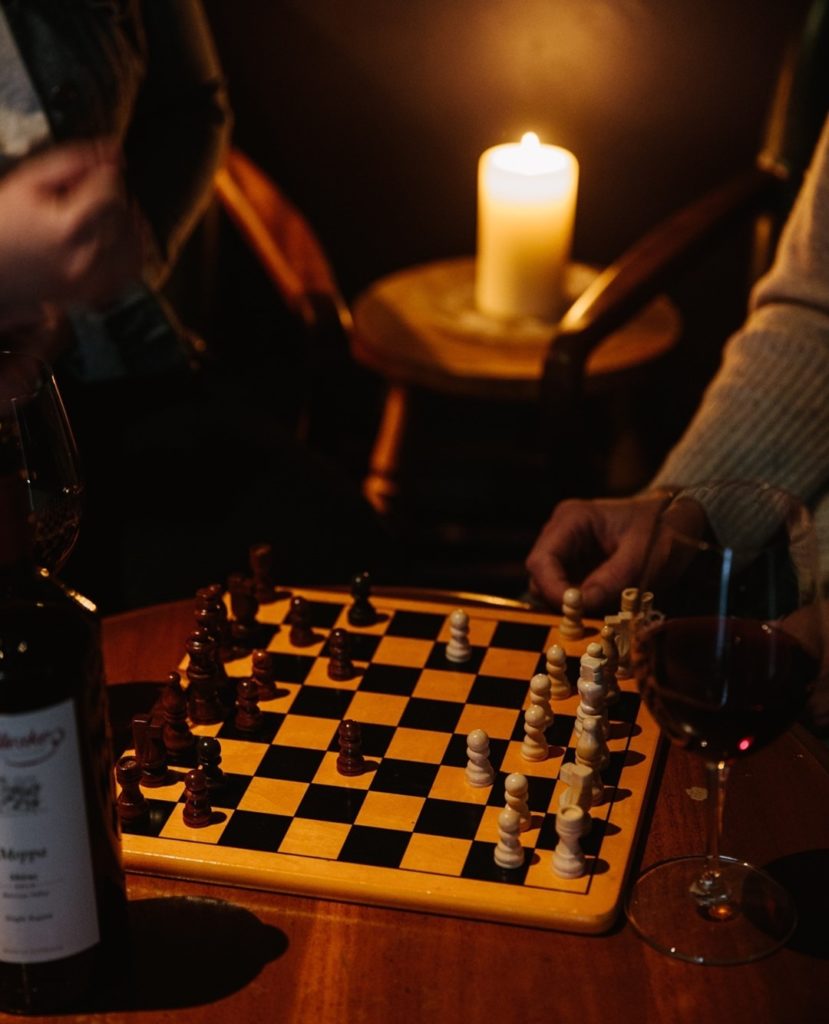 241 Queen Victoria St, North Fremantle WA 6159
Housed in the terrace of an old Victorian building, Mrs Brown's bar has a lot to offer with its exposed brick interior and its roaring fireplace. If that's not cozy enough, they also offer a wide range of wines, beers and ciders.
Pair that with a cheese board platter and some board games and you've got the best winter date! Mrs Brown's bar is the perfect place to unleash your competitive side!
Rodney's Bait 'N Tackle
598 Stirling Hwy, Mosman Park WA 6012
If you're a fishing fanatic or a sailor at heart then Rodney's Bait 'N Tackle is the best date spot for you! Reeling you in with the interior decked out with vintage fishing gear, artwork and memorabilia. With the bar being an unmissable 30 foot long fishing boat, this bar is the perfect way to end a winter fishing date. Although it may not seem as romantic at first, Rodeny's has live music scheduled for almost every other night.
They even offer a 25% discount on bottles of Wine every Thursday night! So drift away on the perfect winter date night at Rodney's.
Varnish on King
75 King St, Perth WA 6000
If you're looking for hearty winter food, then look no further than Varnish on King. The home of American whiskey in Perth. Varnish on King goes the extra mile to immerse you in the American whiskey culture by offering tastings of whiskey paired with bacon.
You can also prebook for a whiskey masterclass that takes place on the first Monday of every month! What more could you ask for on a chilly winter day!
La Cholitas
279 William St, Northbridge WA 6003
Warm up this winter with a spicy margarita and some crispy fish tacos at La Cholitas. Located in the corner of William St, La Cholitas offers a large list of tequilas and tacos.
This relaxed location is the perfect spot to taste test new tequilas or challenge your date to a spicy food eating contest!
They also offer hot winter cocktails that are sure to drag you out of your house.
Seoul Buffet
Various Locations
What better way to warm up this winter than by cooking your own food on a Korean Bbq? At Seoul Buffet, you really get the value for your money. For $39.90 per person, you get an unlimited amount of marinated BBQ meats and veggies. If you're not in the mood for bbq meat then try their customisable steamboats! With food made to preferred spicy levels, Seoul Buffet is guaranteed to fill up you and your dates' bellies this winter!
Gangnam
Various Locations
Located in Karawara and Carousel, Gangnam is a relaxed Korean restaurant that is sure to give off a homely vibe. Their extensive menu offers something for any diet requirements, as they can cater for vegans, vegos and even gluten free diets. Giving you the option of cooking your meal or sticking to the Korean staples such as bulgogi, bibimbaps or bentos. Gangnam is a warm and inviting spot to have a winter date at.
Lulu La Delizia
5/97 Rokeby Rd, Subiaco WA 6008
Is there a better winter warmer than a humble and classic bowl of pasta?
At Lulu La Delizia they focus solely on perfecting the flavours of their hand made pasta. Giving delightful flavours of Friuli and the Ventenian spice route, their pasta is luxurious and silken. Sharing a plate of their delights over a bottle of wine with your date is the perfect way to end a stormy winter day.
The Cove
568 Canning Hwy, Attadale WA 6156
A cozy home converted into an Indian restaurant.
The exotic flavours and spices that The Cove have to offer are aromatic and fiery! Fan favourites being their vegetable pakoras and freshly made chilli naan – actually anything made in their charcoal-fired tandoor is completely divine! With multiple small rooms that are available to book out, The Cove is bound to find you a romantic secluded spot for dinner.
Their frosty glass windows and delicious spicy food make The Cove a romantic winter date spot.
Pasta Addiction
10 Mouat St, Fremantle WA 6160
At Pasta Addiction they don't just offer a homemade range of pastas – they also offer a variety of soups! Is there a better winter warmer than soup? Ranging from Minestrone to Morocan lamb, their bowls of soup are served alongside freshly made bread.
Their freshly made pasta is also completely customizable to your preference! From the sauce, to the shape of your pasta to even the color of your pasta! Plan your next date to Pasta addiction for homemade soups and pasta this winter.
So grab your winter coat and your partner and plan out your next winter date at one of these cozy spots.
Never miss a bite or a sip in again with our latest Perth eats and drinks news on SoPerth.com.au.