Bailey Brewing Co will be opening their taps this spring in the Swan Valley.
Across the road from one of the Swan Valley favourites in The Henley Brook you many have noticed some work being done. This work is the brand new brewery of Bailey Brewing Co which will open in time for the perfect Perth spring weather.
Founded by a father and two sons, family is not only at the heart of the brewery, but a driving force behind its creation. After years visiting pubs and venues throughout Australia, the trio noticed that the kids always wanted to go to one place and the adults another – so they decided to build a spot for all to enjoy.
The result: Bailey Brewing Co is a 9.5-acre backyard and welcoming brewhouse serving Aussie pub staples that never fail to hit the spot.
What to expect at Bailey Brewing Co?
A state-of-the-art brewery crafting up to 200,000L of beer and cider annually.
A roomy tavern and kitchen serving crowd-pleasing dishes made from local, quality ingredients.
Plenty of room for the kids! There's a 850 sqm nature playground, complete with flying fox, and a big oval for the kids to run free.
Private function spaces for small do's, milestone parties and everything in between.
Large sports screen, so you never miss the game.
Coffee roastery for a fresh morning brew.
The venue map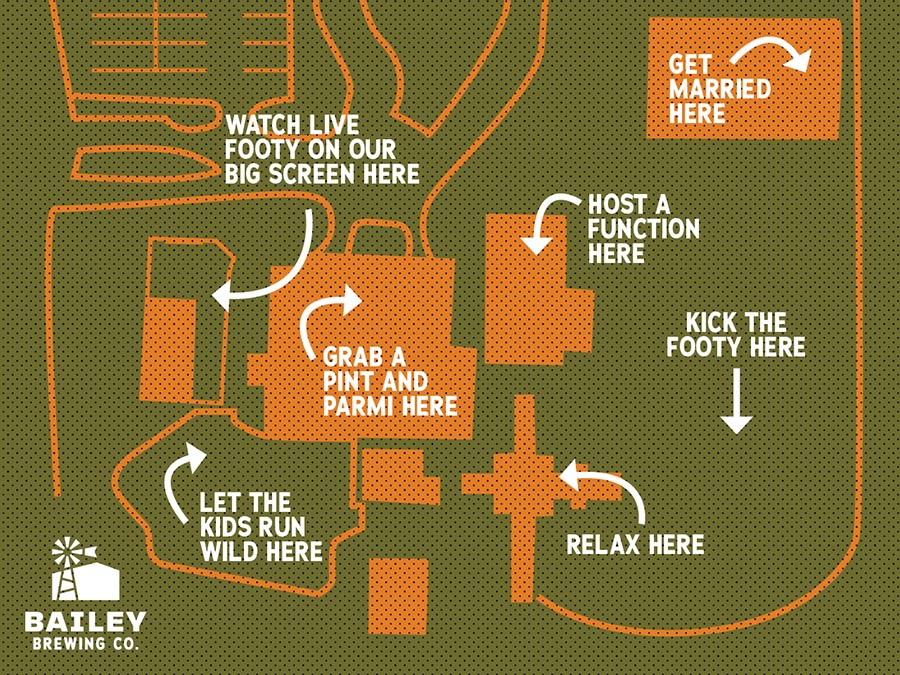 As for an insight into the beers?
Steven Bailey, Co-Founder and Director of Bailey Brewing Co has stated they are going to keep to the classics. "Our philosophy has always been to brew simple, sessionable beers that taste great. There are some inventive breweries out there experimenting with flavours and funny beer types like milkshake IPAs which is great but that's not what we want to do. We want to brew good, classic beer."
"We've recently brought onboard Damien Bussemaker as our head brewer who will develop our core range alongside Dan and I. We are aiming for simple yet flavourful beers in crowd favourite formats like Pale Ale, Lager, IPA, NEIPA, Midstrength, plus a Cider." said Steve.
Everything else on the menu
It's not just all about the beer as Bailey Brewing Co intends to install a Genio 6kg coffee roastery to supply the bar with fresh espresso and a pizza oven will also be built on-site in the coming months.
The wider menu is yet to be finalised but will feature Aussie pub staples with a focus on local ingredients.
"We want to do the simple things bloody well. Tasty food that fills you up and a menu that everyone from Gran to the kids can pronounce and enjoy." Said steve.
Think chicken parmies, woodfired pizzas, and hearty salads.
So much room for activities
The kids and the parents will love Bailey Brewing Co as a family destination with fact that the kids will have an 850sqm nature playground, designed by Nature Play Solutions to run wild.
Nature Play Solutions are the masterminds behind play spaces like Pia Place and Subiaco Common.
The build is underway and will see four antique cars cleverly converted into a tyre swing, slide, and flying fox to keep pint-sized adventurers entertained for hours.
Budding footy stars of all ages can set up the portable goal posts on the oval, too.
"Dan and I both have two kids, so we know that plastic flat-pack playgrounds only keep them occupied for about 10 minutes. We think its important kids get a chance to run around and use their imagination,
which was a big inspiration for our design. Basically, we want to build the ultimate backyard." said Steve.
Don't miss a drop of news and follow baileybrewingco.com.au.
For latest Perth Food and Drink news on SoPerth.com.au.