Our top-secret spots in Perth for a Late-Night Drink.
Who wants to go to the same old bar you've been to ten times when now you can find so many hidden gems scattered all around Perth- as long as you know where to look.
With new joints popping up in every basement, street and alleyway in town it seems Perth is having a secret bar frenzy and we're here for it.
Get your bar hunting shoes ready, here's the best spots for a cheeky drink on the down-low.
Convenients
Northbridge
It may look like a plain old convenience store on the outside, but enter through the fridge doors inside to find a hidden bar pumping with live music and dirty late-night burgers. Convenients is new to the Perth bar scene and will be bringing you rock music, good vibes and a whole lot of beer.
Foxtrot Unicorn
Perth
Hidden in an old bank vault below St Georges Terrace, Foxtrot Unicorn is full of vintage bar history and good times. This dark little underground hideout is a booze lovers dream with award-winning bartenders serving you up the finest spirits, era-specific cocktails and wine. To top it all off they have an insanely good cheese menu featuring a 10-cheese toastie and jaffles, nothing more needs to be said.
Toots
Somewhere in Chinatown
Sultry, sexy and a little bit mischievous – say hello to Perth's newest (and best) kept secret disco dancefloor. Where exactly is Toots? Somewhere in Northbridge's Chinatown is all we've got- but we do know that she's a secret bar within a secret bar, so you'll need to pull together all your bar hunting skills to find this one.
Once you've figured it out just say the magic words "Is Toots in?" to get your golden ticket and be transported into a world of 70s disco extravaganza where you can boogie all night.
Sneaky Tony's
Northbridge
This speakeasy rum bar is home to over 300 bottles of rum from all corners of the globe. Sneaky Tony's is hidden in the back alleyways of Northbridge and is well known by any good Perth bar fanatic. Make sure you check our their Facebook page on Friday and Saturday for the password to get in.
Varnish on King
Perth
A scene of underground sophistication, this whiskey den has an epic selection of drinks with equally epic food options. Varnish on King can be found underneath King Street and once you're in it's hard to leave.
Joe's Juice Joint
Northbridge
This dimly-lit underground dive bar is a Perth local treasure- and for good reason. Joe's Juice Joint has everything from fried chicken to pinball to craft beer and a whole lot of rock 'n' roll and good times. The perfect spot for your last stop of the night with classic rock playing into the early hours of the morning.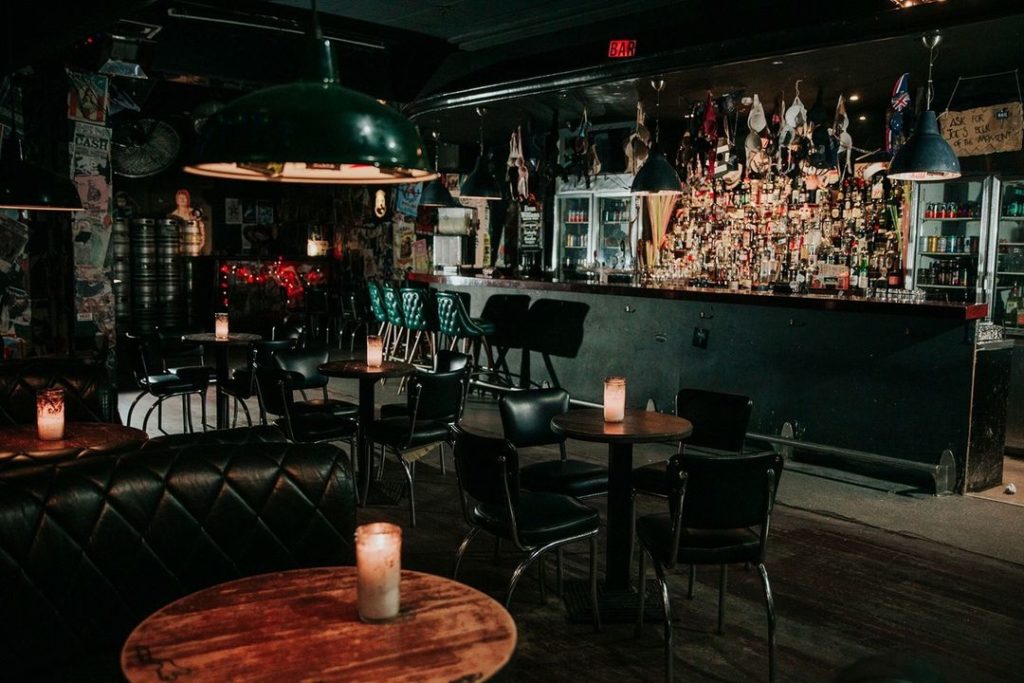 Ezra Pound
Northbridge
An intimate, low-key venue tucked away in Northbridge taking its inspiration from the American prohibition period- Ezra Pound brings a carefully crafted wine and beer menu with delicious cocktails and paper bags for your beer bottle in true sneaky fashion.
Helvetica
Perth
One of Perth's first laneway bars, Helvetica is a hidden amongst the office towers of Perth's central district. It's retro atmosphere is full of soft furnishing and warm lighting making you feel cosy and at home while you drink up some of their finest whiskey.
Pooles Temple
Perth
Bringing to you all the things a hidden bar should be; dark, moody and underground. Pooles Temple is a snug spot you won't want to leave filled with velvet chairs, live jazz music and their famous martini's.
Alfred's Pizzeria
Perth
Follow the neon sign down a set of dingy old stairs and you'll find yourself in pizza heaven. If you're a sucker for a good slice, welcome to Perth's best kept secret. Alfred's Pizzeria is an underground bar perfect for a late-night bite and of course their drinks list is equally as impressive with mouth-watering cocktails and a great selection of gins.
Caballitos
Perth
Underneath the old 1907 on Queen Street you'll find Caballitos– a wonderland of frozen margaritas, tasty tacos and a whole lot of Mexican goodness. The central theme here: tequila! Make sure you give The Lagarita a try, its a delicious combination of frozen margarita and corona that will have you stumbling out the door.
Alabama Song
Northbridge
This American inspired dive bar in Northbridge specialises in whisky and bourbon. Alabama Song is filled with a whole lot of country vibes, and the American cheeseburgers are a perfect late night snack after a few glasses.
The Jazz Cellar
Mount Hawthorn
Step back in time through an old red telephone box and be transported into a world of smooth jazz. The Jazz Cellar is a cosy underground bar in Mount Hawthorn that has been opening its doors for jazz lovers every Friday night for over 20 years and the atmosphere is electric every time with live jazz and good times guaranteed. Get the gang together and head down for a night of dancing and music that you won't want to end.
Mechanics Institute
Northbridge
Mechanics Institute is a classic rooftop bar that will make you feel right at home as soon as you walk through the door. The bartenders here know their stuff and are always whipping up expert cocktail creations while the Flipside burgers will keep you fed through the night.
Bobeche
Perth
Booze plus free popcorn, what more could you want? Bobeche is a carnival themed bar underneath St George's Terrace and its dimly-lit interior offers a cosy spot to sip on their quality spirits, wine or beer.
Bar Lafayette
Perth
Bar Lafayette is an artisan cocktail bar in the heart of the CBD boasting timber floors, vintage decor and small intimate rooms that will charm you. They offer a diverse list of wines, craft beers and cocktail creations that compliment their range of bar bites.
Andaluz Bar & Tapas
Perth
You can find some of the best authentic tapas in Perth hidden in this little Spanish tapas bar. Andaluz is a contemporary style bar filled with antique leisure lounges located down an alley off Howard Street. It will easily have you hooked after you grab a bite to eat and try their international wine selection and cocktail list.
Discover more of Perth's best eats and drinks on SoPerth.com.au.
Never miss a bite or sip in Perth again – register here for So Perth eats and drinks mailout for the freshest and tastiest bites delivered straight to your inbox.