Calling all comic artists and lovers get yourself down to the Comic Tragic exhibition at the Art Gallery of WA pronto.
I'm guessing it's not often a gallery curator gets free reign to present one of his passions, but that's exactly what Robert Cook got to do in the current exhibition that explores the inner life of comic artists.
Comic Tragics presents over 150 examples of work from nine amazing published comic artists. What's special about the exhibition is that while most of the pieces are finished there are also roughs and sketch books on show. If you've ever wanted to see the process behind the finished product this is it.
There are comic books, paintings, and videos highlighting that there's more than one way to deliver a message.
'In 2016 we are inviting our audiences to see things differently. One aspect of this new direction is to curate exhibitions that inspire visitors with their presentation of different directions that art forms are taking,' explained AGWA Director Stefano Carboni.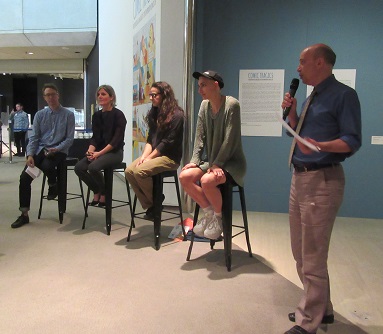 'With Comic Tragics we have brought nine wildly exciting artists together with the aim of showing just how mature and fascinating this genre can be. The work on display is accessible, personal and truly affecting. And the themes traversed will resonate with many people,' he continued.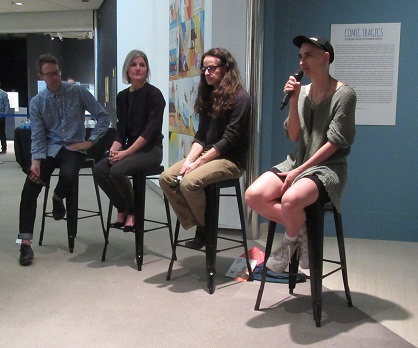 Curator Robert Cook also spoke about the incredibly personal nature of some of the pieces.
'The artists' works are highly personal and reflect individual obsessions and introspection, underscored with the anxieties and paradoxes of modern life – it is darkly intriguing and wonderfully touching … their artworks step beyond the superhero into the super personal.'
Australian artist Tommi Parrich puts her heart on her sleeve to show modern day moments.
'I was tired of just drawing I thought my art needed more purpose … I folded peoples' stories into my images,' explained Tommi.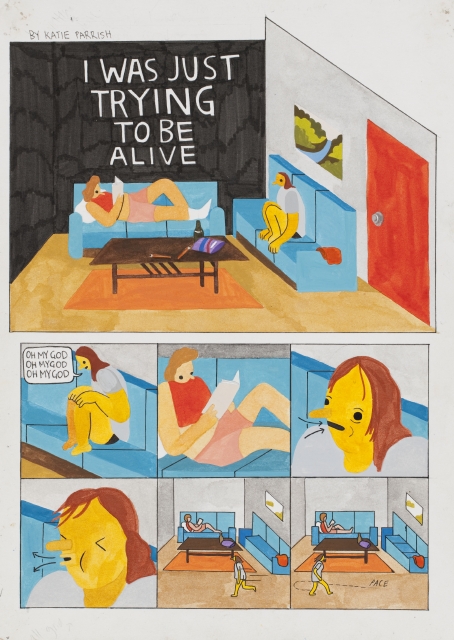 Emma Talbot (UK) is a perfect example of how there are no rules about the medium used or style employed. Her large scale painting look like religious tapestries at first.
'The ideas come from love … and telling my life story,' said Emma.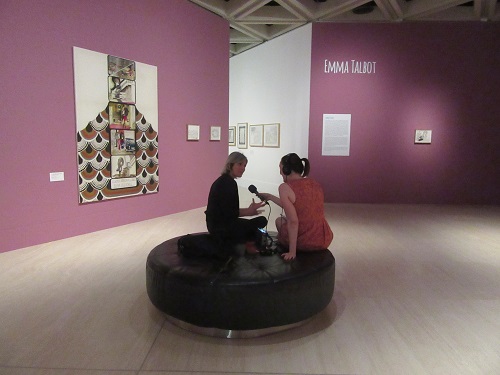 Ron Rege Jr (US) offers highly detailed line work or 'spidery webs' that explore issues of utopia. He has also been invited to create a large mural in the Imagination Room which opens soon.
'Wondering is how I create stuff … wondering about how the world comes together,' Ron explained during the preview panel discussion.
My favourite was Stephen Collins (UK) whose work appears in the Guardian Newspaper. I spent ages admiring his pieces.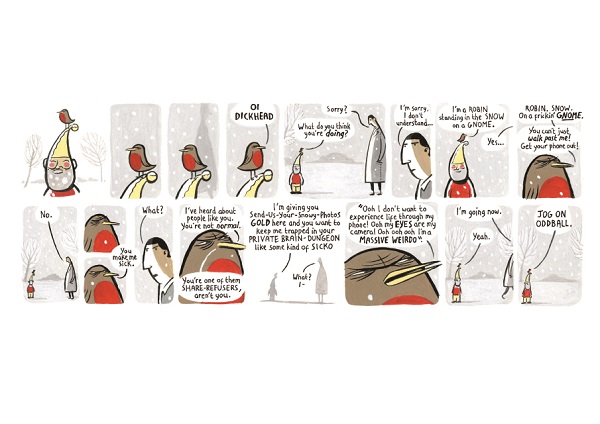 Other artists represented are Gabrielle Bell (US), Aisha Franz (Ger), Anders Nilsen (US), John Porcellino (US), and Dash Shaw (US).
While most people associate comics with superheros this exhibition shows how the medium can be used to convey intense messages, or simply look at life from the viewpoint of a sparrow perched on top of a garden gnome. As someone who delighted in spending hours watching the magic of a cartoonist work, this was a real treat for me and I'm sure it will be for you too. I can't believe we get to see all this for free.
The exhibition is on until July 2016 and is free. For more information go to Art Gallery WA  A few more photos can be found at www.theponderroom.com