Our best sports bars in Perth to cheer on your team.
Aussie culture can pretty much be put into one sentence: sport, beers and more sports.
It's no secret that us Aussies love our sports, and there is nothing better than watching your team on the big screen at the pub while sinking pints with mates and yelling "BALL!" alongside complete strangers.
There's something for everyone on the Perth sports bar scene whether you're chasing AFL, NRL, UFC or something else entirely. These bars have got you covered with dedicated sports screens and plenty of booze and food to keep you happy even if you're teams losing.
Swap out the couch for a bar stool at a sports bar near you and get the crew on the road for your next sports night on the town.
Patriots Bar
209 William St, Northbridge WA 6003
You'll never miss one second of the game here, Patriots is an American-themed bar home to 22 TV screens all dedicated to live-streaming the best sporting games, plus three big screens and two private screening booths- how's that for coverage from every angle. You can find Patriots in the heart of Northbridge as part of Brass Monkey and along with the best live sports coverage they pump out classic American bar food to help those beers go down nicely.
Ocean Beach Hotel
140 Marine Parade, Cottesloe WA 6011
The public bar at Ocean Beach Hotel offers four big screens to watch the game plus ocean views, what a treat! This popular hangout offers a great atmosphere and delicious pub food to chow down on at half time. Make sure you get in early to the bar for the best seats in the house. They also offer happy hour everyday from 6pm-7pm, cheers to that!
The Wembley Hotel
344 Cambridge St, Wembley WA 6014
Huge parmi's, cold beers and footy on the big screen- a simple Aussie's dream and it's all at Wembley Hotel. Technically it's not a 'sports bar', but it has a huge screen and gorgeous courtyard setting to watch all the AFL games live so we're counting it as one- plus they throw a killer Grand Final party to mark on your calendar.
Varsity
Various Locations
You've for sure been to/heard of Varsity for their famous burgers, but that's not all this joint is good for. It feels like you're walking straight into an American sports bar as you enter, the place is decorated accordingly and playing every kind of sport you can imagine with that sports night vibe oozing throughout. With venues spanning from Joondalup to Freo, theres bound to be one in the area that you can go and check out. I'll also mention that Varsity Joondalup won WA's best sporting entertainment venue in 2018 and 2019, so you don't need to just take our word for it.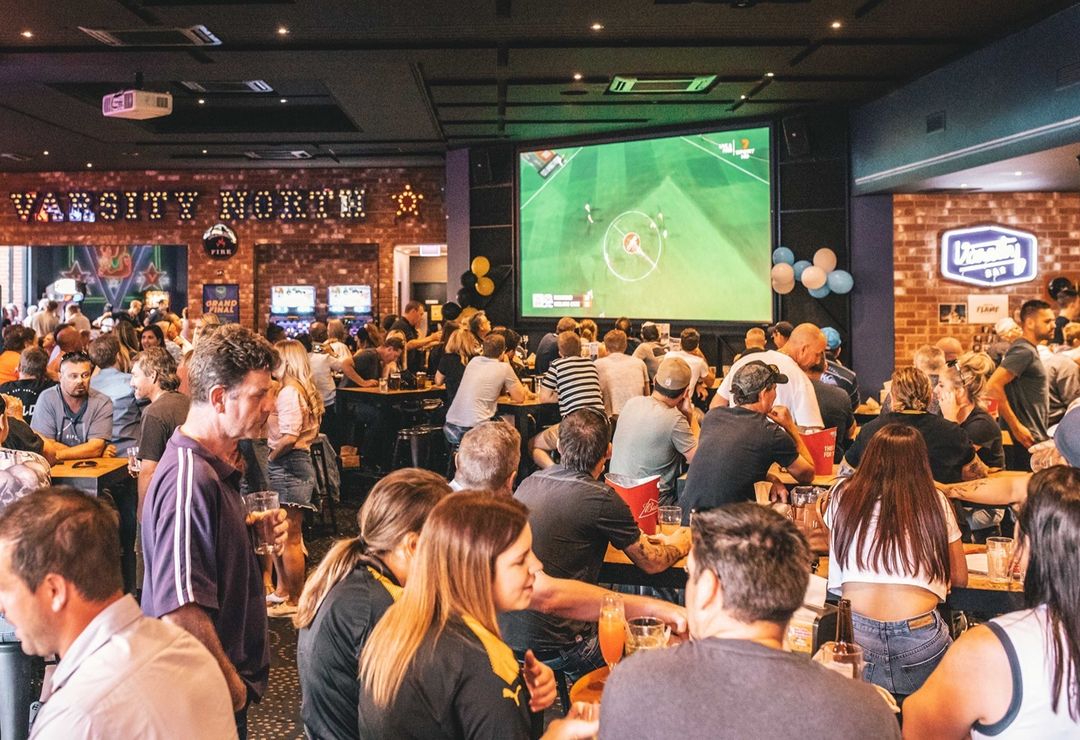 The Northshore Tavern
66/470 Whitfords Ave, Hillarys WA 6025
Locals north of the river will be well aware of this little gem tucked around the side of Whitford's shopping centre. The Northshore Tavern is home to a dedicated sports bar including a TAB area and everything from AFL to V8 supercars on display. They also pour house spirits for $5 after 8pm on a Friday so you can keep the party going well into the night.
The Camfield
1 Roger MacKay Dr, Burswood WA 6100
An obvious lock on the best sports bars Perth has on tap can be found just next door to the iconic Optus Stadium.
The Camfield is Australia's largest pub and the place to be to watch on one of their many screens or have some cheeky bevvies before heading to the game live next door.
If it's atmosphere you're after then this will not disappoint- did we mention they have 175 beers on tap and 6 bars?
Crown Sports Bar
Great Eastern Hwy, Burswood WA 6100
24/7 sports? Yes please! Crown Sports Bar has long been a go to as one of the best sports bars in Perth.
Crown Sports Bar has you covered from AM to PM with all the sports your heart desires there for your viewing. They have TAB facilities if you want to get on the punt and big screens 130 metres long so it pretty much feels like you're in the game.
If you want to really get fancy you can hire 'The Box' for your own private viewing.
Ingelwood Hotel
803 Beaufort St, Perth WA 6052
An oldie but a goldie, Inglewood Hotel doesn't miss anything in the sporting world with a sports calendar outlining everything they broadcast to their valued customers on the regular. They've got some killer bites to eat as well, so when you're not screaming at the TV make sure you get your hands on their pulled pork tacos and steak sandwich.
Balmoral Hotel
901 Albany Hwy, Victoria Park WA 6101
Vic Park's favourite local pub, Balmoral Hotel has plenty of screens and a gorgeous beer garden setting that's perfect for a Friday after work winding down. They've also got a Spicy Margarita on the menu this month made from in-house chilli tequila if you really want to get fired up while cheering on your team.
JB O'Reilly's
99 Cambridge St, West Leederville WA 6007
You'll always find a warm welcome at this hearty Irish pub. JB O'Reilly's has been serving up tasty food and Irish tipple for 20 years and they're not bad on the sports front either. They also host great weekly dinner specials from Monday-Thursday, we'd recommend giving their BBQ Beef Ribs a try at your next visit.
The Guildford Hotel
159 James St, Guildford WA 6055
The Guildford Hotel combines heritage charm, booze and great food to make the list of the best sports bars in Pertht. With ample seating inside and a beer garden to soak up the sun – it's the perfect spot to catch a game with screens positioned all around the venue.
They're also home to outstanding food including plenty of smoked meats straight from the in house smoker on the menu, because sports and smoked meat are the perfect match.
Mustang Bar
46 Lake St, Northbridge WA 6003
One of Northbridge's most beloved institutions, Mustang Bar has it all. They cover all your sporting needs with 11 screens and a whole range of channels including Basketball, AFL and Soccer. They're well-known for the epic dance floor inside so once you're done with sport watching you can chuck your dancing shoes on and have a boogie into the night.
Hyde Park Hotel
331 Bulwer St, West Perth WA 6005
After undergoing some drastic renovations, Hyde Park Hotel is looking better than ever. Although many things have changed, the fact that it's one of the best spots to express your love of sports has not. They have a state of the art sport lounge featuring 10 TV's and a few pool tables lying around if you feel like having a game of your own.
The Victoria Park Hotel
605 Albany Hwy, Victoria Park WA 6100
With four big screens out the back and a dedicated upstairs area for major sporting events, Victoria Park Hotel is definitely making our list. Situated in the heart of Vic Park the venue has a warm and cozy feeling to it with plenty of beer and wine selection and they cook up some good grub too. You can also order from your phone and get it delivered straight to the table so you won't miss out on one second of the action, how good.
The Saint George Hotel
2 Morris Rd, Innaloo WA 6018
Beer garden lovers will be right at home at The Saint, hosting a huge alfresco area with refreshing drinks on tap and a massive TV screen right in the middle of it all. They believe the game should always be on with a beer in hand, and we couldn't agree more.
The Sporting Globe
Lastly, but not least on our list of best sports bars Perth has to offer is The Sporting Globe.
Slowly taking over Perth is The Sporting Globe a premium Sports Bar & Grill hosting all the biggest sporting events LIVE from around the globe on over 50 HD screens. 
While some venues will simply throw a TV up on the wall and say they are a sports bar – The Sporting Globe are all about sports and providing the food and drinks to make sure you have the perfect game day experience.
You can find The Sporting Globe in Belmont, Rockingham and Mandurah.
Discover more of Perth's best eats and drinks on SoPerth.com.au.