Chuck on your dancing shoes and celebrate Perth's live music scene.
In the midst of a global pandemic, the music and entertainment industry need our support now more than ever.
Perth is often overlooked on the live music scene with many minds jumping straight to the eastern states, but we've produced some pretty impressive and successful artists over the years with the likes of Tame Impala, Birds Of Tokyo, San Cisco and Karnivool all hailing from our great city.
Here are some of the best live music venues in Perth where you can catch everything from local artists to celebrated international acts.
Rosemount Hotel
459 Fitzgerald St, North Perth WA 6006
The Rosemount Hotel has certainly earned its place on this list with a bunch of awards as a live music venue in Perth.
It's a go-to for the hottest touring bands and has had the likes of Great Gable, Mudhoney and Tame Impala grace its stage. They host a number of local breakout bands launching new singles so you can discover some new fave tunes, or you can catch a Burlesque or comedy show if you're up for something a bit different.
The Ellington Jazz Club
191 Beaufort St, Perth WA 6000
Get your Jazz fix at The Ellington Jazz Club in the heart of Perth.
This intimate jazz club is everything you'd expect it to be: cosy, inviting and dimly lit with round table seating and an array of Australian talent. Indulge on the night in one of their delicious pizzas and let the smooth sounds of jazz whisk you away.
Fear not, if jazz isn't your style they also have blues, soul, folk and R&B.
The Bird
181 William St, Northbridge WA 6003
One of Perth's best, The Bird has been providing insanely good live music since 2010.
The intimate venue has a chilled-out, grungy vibe with exposed bricks, a shaded beer garden and some delicious cocktails. They celebrate local music artists and have a jam-packed live music calendar featuring heaps of talent almost every night of the week.
Jack Rabbit Slims
133 Aberdeen St, Perth WA 6003
Jack Rabbits regularly have live music pumping out every weekend with a variety of flavours to choose from including pop, rock, R&B, rap or electronic.
They have been home to a few big international and national names in the past, but it's a great spot to catch some bands and artists you might not have heard before. Not to mention, the location is pretty good too with a 1950's inspired diner at the entrance serving up boozy milkshakes and fries.
Mojos Bar
237 Queen Victoria St, North Fremantle WA 6159
A Perth icon, Mojos Bar is the place to be if you want a bit of everything. They host a variety of genres every night of the week so you can never get enough.
It's a lively, colourful little piece of history in North Freo and the perfect joint to get your boogie on with original and local music. It's reputation speaks for itself, so I'll say no more.
El Grotto
5/148 The Esplanade, Scarborough WA 6019
The small Scarborough bar proving you don't need much room to bang out some killer tunes, El Grotto is a Mexican style bar hosting great local bands and DJ's.
They serve up tacos, tequila and out-of-this-world-good cocktails (get your hands on the El Diablo) right on the beachfront and have rock/indie style bands taking the stage with a pumping crowd dancing all night long.
Amplifier Bar
393 Murray St, Perth WA 6000
If you're buzzing for a full-on, loud, hardcore night of rock 'n' roll then Amplifier Bar will provide the goods.
They're host to some of the best rock and punk bands tearing up the stage on the weekends into the early hours of the morning. When you're ears can't possibly take anymore you can try your hand in their bowling alley or head through to Magnet House and keep the party going under a neon-lit ceiling.
Badlands Bar
1/3 Aberdeen St, Perth WA 6000
The interior of Badlands Bar kind of feels like stepping into a prehistoric, grungy cave- but with modern, killer tunes.
Their sound system is banging and they feature a large festival-vibe beer garden, food trucks and plenty of rock bands to headbang along to. It's not a bad place to host your own function too with heaps of space available.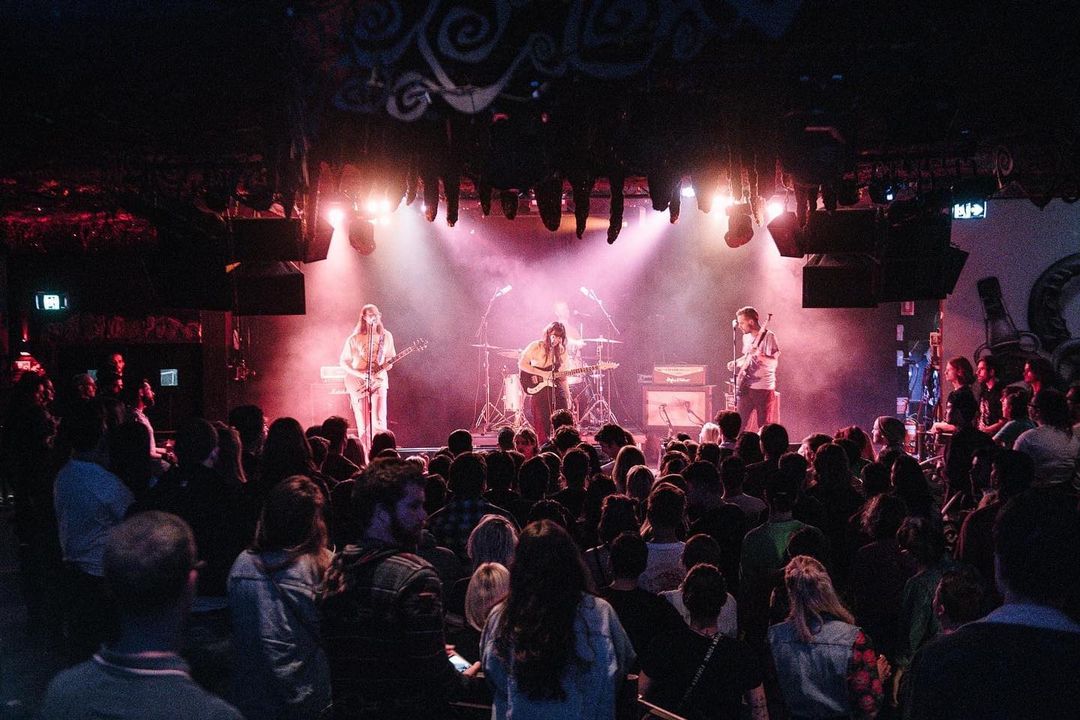 Fremantle Arts Centre
1 Finnerty St, Fremantle WA 6160
Seems like Freo is a bit of a live music hot spot, and we've got one more to add.
Fremantle Arts Centre is a stunning heritage building that is home to all things music and art. They have three venues surrounding the area for your live music with a large lawn space, a front garden and an inner courtyard.
They've got some huge shows coming up at the end of this year with internationally renowned bands Ocean Alley, DMA's and Jungle Giants all set to perform over September- talk about a star-studded lineup!
Indian Ocean Hotel
23 Hastings St, Scarborough WA 6019
The Indi Bar has been a local Scarborough legend for years. Along with their famous pool parties, they have plenty of live music to keep an eye out for most days of the week.
It's a laidback, casual venue with good vibes and an impressive list of past performers such as John Butler Trio, DZ Deathrays, Shock One and Luke Steele, to name a few.
Freo.Social
Parry St, Fremantle WA 6160
Revamping the old Fly By Night Club, Freo.Social has blown it out of the park with a cutting-edge sound system, a modern beer garden and an entire entertainment hall dedicated to bringing you the best gigs in town.
Their food and drink menu isn't too shabby either with rotating craft beers by Otherside Brewing Co and some insanely good pork belly bites.
Convenients
35 Lake St, Northbridge WA 6003
New kid on the block, Convenients has come in with a bang and is making a name for itself on the live music scene.
Hidden in plain sight as a fully functioning convenience store, you'd never guess it's a secret bar full of rock, booze and burgers. It's also Perth's only live music venue constructed by musicians, so you can be sure you'll be getting top-notch sound quality and an all-over amazing musical experience.
Check out the latest Perth events on SoPerth.com.au.