Nourish mind and body at the best wellness and yoga studios in Perth
The constant hustle and bustle of life, work, family, and general socialising can make it seem impossible to find a little 'you' time to relax, reconnect or fit in a workout. What you need is an escape – a place to put life on pause for a moment. To clear the mind, and get fit while doing it.
Find your zen or get hot and sweaty at 11 of the best wellness and yoga studios in Perth with everything from vinyasa flow to reformer pilates and hot yoga.
Myall Yoga & Wellbeing Studio
Your very own private escape right in the heart of the CBD, Myall allows you to put the busy workday on pause and take some much-needed time to clear your mind and escape the buzz.
They offer yoga, pilates, meditation, massage, and an infrared sauna in a space boasting parquetry wood flooring and billowing curtains. You can pop in on your lunch break, start the day with a morning flow, or head over at the end of the day to release and reset.
If all that sounds like somewhere you want to be, they offer a 14 day Intro Offer for $39 that provides unlimited access to all yoga, pilates, meditation, and breathwork classes.
Plus, if you're on the intro offer and then sign up for an IGNITE membership at $39 per week, you'll also receive an extra week free. Double bonus!
Sign up for all that goodness here
---
Synkro
Relatively new on the Karrinyup scene, Synkro quite literally has it all.
The crisp, clean space is the ultimate stop for all things health and wellness with a spacious gym, pilates, yoga, meditation, sound healing, and group fitness classes alongside onsite chiropractors, nutritionists, physiotherapists, and kinesiologists. Extra perk? There's an entire Zen For Kids creche where you can leave the little ones.
Synkro is one-of-a-kind in its approach that allows members to train mind, body, and spirit to reach a whole new state of well-being. Basically, you'll be joining Perth's most unique health and wellness community.
The Train & Tone membership is best for those looking to solely sweat it out and includes access to the club gym and a range of fitness classes, or you can take it up a notch with Evolution Plus which gives you access to the whole lot. You'll get the first two weeks complimentary on either membership for a limited time only, so there's really no reason not to experience it all for yourself.
---
YOGALAB Fremantle
You'll find YOGALAB perched above Mother (formerly Raw Kitchen), a plant-based restaurant and smoothie bar doing everything natural, fresh, sustainable, and nourishing.
Head in for classes focused on getting that heart rate up, clearing the mind, harnessing the breath, and strengthening the body, then head out and grab a raw goodie or smoothie on your way.
---
Clear Mind Studio
A feeling of calm will wash over you as soon as you step into Clear Mind Studio.
The minimalist yoga space caters to all levels of fitness with everything from slow flow to vinyasa or hatha and breathwork meditation classes. When you're done perfecting your downward dog, saunter down for a massage, jump in the infrared sauna, or feel your worries wash away in a float tank session.
---
Yogahub
Yogahub has tapped into the classic yoga warehouse vibes, creating a space of white brick walls, high ceilings, pops of greenery, and dark wood floors.
They've got classes that take you all the way back to the roots of yoga, classes to quiet the mind, classical ashtanga vinyasa for anatomical function and alignment, and therapeutic yoga that can help release trauma.
---
New Movement
Welcome to a place where you can get your sweat on 24/7 and discover 83 different classes a week.
New Movement offers gym group classes, pilates, yoga, and HIIT, so you can kick those fitness goals and find a little escape in their tranquil movement room. No longer will those gym trips seem so difficult when you're heading to a space like this.
---
Tamara Yoga
Tamara Yoga is everything a yoga community should be; warm, caring, welcoming, and deeply relaxing.
Their Claremont space is minimalist, light-filled, and home to plenty of classes like vinyasa, early morning rise and shine, restorative yoga, sweat and samadhi, or meditation. No matter your mood or craving, you'll find something to get you sweating or restore your tired body.
---
Balanze
Balanze knows how to give a good reformer pilates session, and it's a lot harder than it looks.
Their premium Balanced Body Allegro 2 reformers help to tone, build strength, improve flexibility, and engage you in a full-body burn workout. You can choose from three different class options; technique, sweat, and transform. If reformer isn't your jam, you can hit up their flow studio for pilates, barre, or vinyasa flow.
---
The Yoga Garage
As the name suggests, you can find everything yoga here, along with some hot pilates thrown in to get that core strength pumping.
Go from hot vinyasa flow to heal and rejuvenate, bikram hot yoga to work up a sweat, yin yoga to feel the calm flow, or a simple meditation practice to reconnect with your body.
---
The Studio Perth
With locations in Joondalup, Butler, and East Vic Park, The Studio is a convenient little escaper from the hustle and bustle of life in a clean, relaxing space.
It's made up of four studio parts: the yoga studio, the pilates studio, the reformer studio, and the meditation studio. All offer a place to move, sweat, release, connect and thrive with everything from hot pilates to fusion yoga and guided meditation.
---
Flow Space
Flow Space is a place for complete transformation, both physically and mentally.
They have a stunningly restored church building studio in North Perth or an ambient oasis in Myaree. On the yoga front, you can choose from power, slow, or hot for different levels of sweat, or jump on a power reformer to tone and strengthen your core.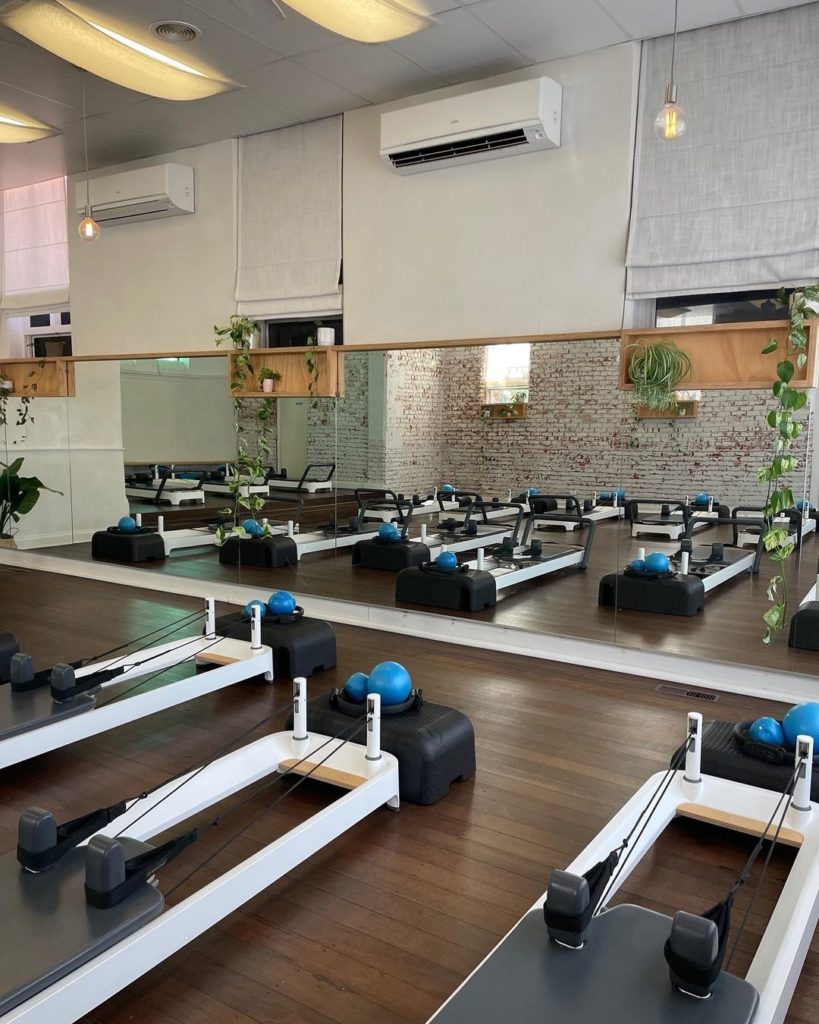 ---
Feature Image: Myall Yoga & Wellbeing Studio
See Also: