Pack up the car and get ready for some weekend road trips to cure those holiday blues.
Life can get crazy, and next thing you know you haven't been on a holiday in 10 months and you're craving any sort of getaway.
"But I'm just too busy!" I hear you say, well, why not take a little weekend trip to break up that weekly grind. Sure, it's not 7 nights at a luxury tropical resort, but everyone needs a time out once in a while.
Given the global pandemic ruining any sort of overseas travel plans, we've had to adapt- but luckily, we've got some killer getaway destinations just a car drive away.
WA is huge, and not to be biased (we are a little) but we've got some of the best landscapes in the world. You've got incredible coastlines, the red sands of the outback and deep green bushland right in our very own backyard. There's never been a better time to explore!
Here are the best weekend road trips for a quick getaway with our top picks on where to stay.
Jurien Bay
Distance From Perth: 2h 20mins
A family favourite, Jurien Bay is a picturesque coastal town that just oozes WA beauty.
Home to totally adorable sea lions and a range of experiences, this one is a top pick for any snorkelling or fishing enthusiasts. Jurien Bay is best enjoyed with a lounge chair, drink in hand and front row seats on the beach for sunset.
Want something a bit more exciting? Take the plunge with Skydive Jurien Bay, or book an Adventure Tour to explore must-see locations like The Pinnacles.
After you're done with a day of activities head over to Sandpiper Tavern & Pizzeria for a hearty pub feed and a pint or two to wash it all down.
Where To Stay?
Casa Al Mare Beach House
Book Here
Jurien Bay Tourist Park
Book Here
Waterfoot On The Bay
Book Here
Lancelin
Distance From Perth: 1h 27 mins
Beautiful beaches and vast, rolling sand dunes- Lancelin is just a short trip North with plenty to do.
Outdoorsy folk will appreciate the range of activities on offer from sandboarding through the dunes, 4WD tracks, windsurfing at Ledge Point or plenty of spots to take the boat out (or find a friend with one) and enjoy a day on the water.
It's the perfect place for a quick little weekend trip, and at the end of the day you can park up at Endeavour Tavern with a drink in hand overlooking the ocean for sunset.
Read more: Best things to do in Lancelin
Where To Stay?
Coastal Retreat
Book Here
Lancelin Beach Breaks
Book Here
Bay Shore Villas 'Main Break'
Book Here
Margaret River
Distance From Perth: 3h
Did you really think you'd get through this list without a mention of Margaret River? I'm sorry, I'm a cliche. But, there's a reason the entire Perth population flocks here on the regular.
There's one good reason to head down for the weekend, and it's wine. This South-West wine region is home to beautiful wineries with delicious wines- think Vasse Felix, Swings & Roundabouts, Leewuin Estate and Amelia Park.
Not sure where to start? See our full guide of the best wineries.
Whether you want to camp or treat yourself to a luxurious stay, there's something for everyone. Take the family along, have a romantic getaway or get the girls together for a boozy weekend- the choice is yours!
Where To Stay?
Cape Lodge
Book Here
The Roozen Residence
Book Here
Villa Dante
Book Here
Denmark
Distance From Perth: 4hr 43mins
Perhaps a more laidback version of Margaret River, Denmark is an absolute jewel on the WA coastline.
It's home to some gorgeous little wineries and picture-perfect beach spots like Elephant Rocks and Greens Pool. It's definitely a place to relax and get some epic gram shots.
In terms of food, Pepper & Salt, Massimo's Place and Singlefile Wines are our top picks. But before you think about lunch, how about trying out Valley of The Giants Tree Top Walk just 40 minutes from the centre- it gets the heart rate up, but the views are breathtaking.
Where To Stay?
Art Of Denmark, Due South
Book Here
The Slow Drift
Book Here
The Tree House
Book Here
Dwellingup
Distance From Perth: 4h 44 mins
If you're after a little country escape with plenty of nature then Dwellingup is your gal!
Your weekend away here will be filled with plenty of outdoor fun including camping, bushwalks or a canoe down the Murray River as you escape the city bustle and get back in touch with your surroundings.
The Blue Wren Cafe is a super cute spot for breakfast, or you can head to Touch Of Aroma for a unique experience in a quaint little teashop filled with a unique range of locally created items.
Read more: Best things to do in Dwellingup
Where To Stay?
Culjum House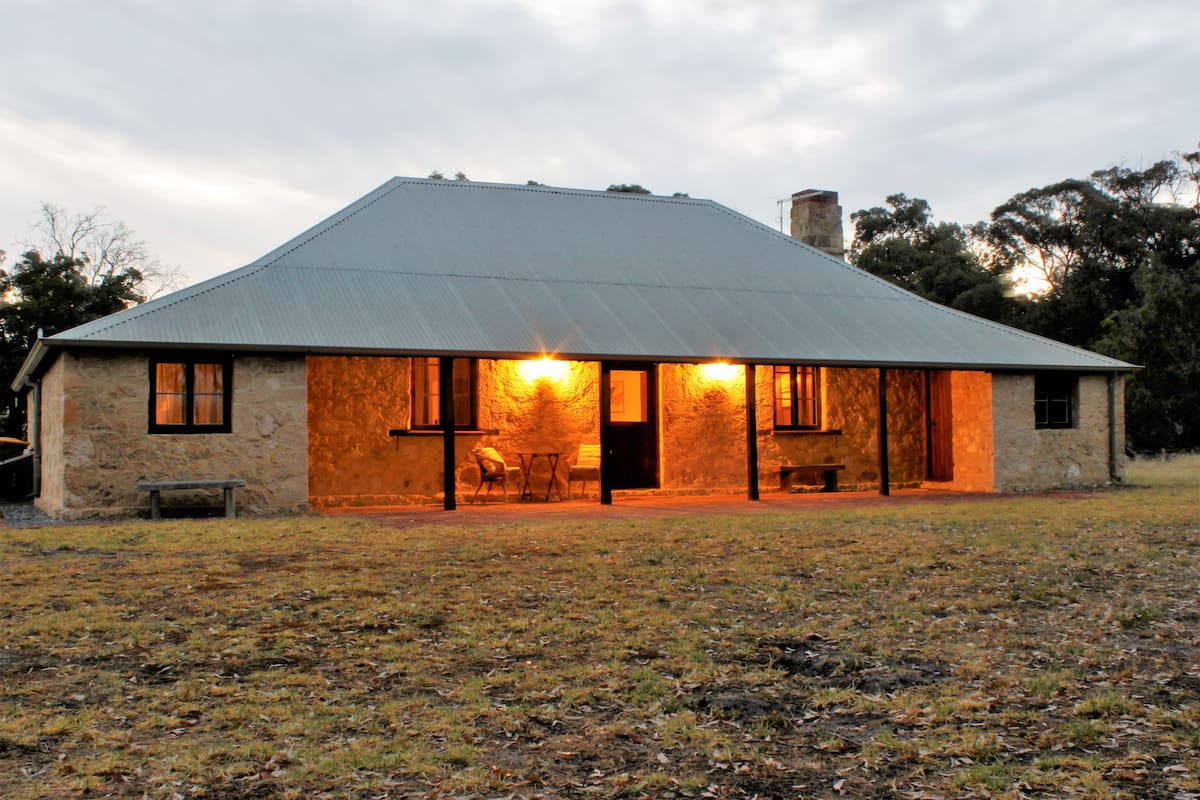 Book Here
Lazy River Boutique Bed & Breakfast
Book Here
The Gallery House @ Lost Eden
Book Here
Blackwood Valley
Distance From Perth: 2h 50mins
Wide country roads, green hills, wineries and ancient jarrah forests are just a few of the reasons to pop in at Blackwood Valley.
This South-West region radiates effortless charm and is home to towns like Nannup, Bridgetown, Balingup and Boyup Brook. Nothing comes close to the incredible scenery and you can't leave without taking a walk along the Blackwood River or setting up for a picnic in the surrounds.
The region produces stunning local produce, and in terms of lunch spots The Cidery and Blackwood Valley Brewing Company offer a range of amazing ciders, beers and food options.
Where To Stay?
Palm Chalet On The Blackwood River
Book Here
Nannup Hideaway
Book Here
See Also: Nannup Bush Retreat: BRB We Are Going To Nannup
Marri View Guest House
Book Here
Collie
Distance From Perth: 2h 20mins
Maybe you usually stick to the coastal route on your road trips, but why not try something different and head inland to Collie?
This little gem is often overlooked as people drive straight past through to Margaret River or Dunsborough, but it's well worth a visit of its own even just for it's Insta-worthy Black Diamond Lake and Honeymoon Pool spots.
You can set up camp somewhere or opt for four walls if the great outdoors isn't your style. Grab your walking shoes and head out to Wellington National Park for some trails, and treat yourself after with a well-earned wine and dine at Harris River Estate Winery.
Read more: Best things to do in Collie
Where To Stay?
Mumbles Botique Stays
Book Here
Avalon Studio Getaway
Book Here
Collie River Valley Tourist Park
Book Here
Kalbarri
Distance From Perth: 6h
Perfect for everyone in the family, Kalbarri has it all. It's red cliffs, crystal clear water and laidback, small-town atmosphere will make you feel a world away from home.
Make Natures Window a priority on the itinerary as you take in jaw-dropping views across the Murchison River. Kalbarri Skywalk is also up there as one of the best experiences in WA suspended 100m above ground. You can also enjoy the view with a Kalbarri Skywalk Dinner at sunset if you want to go that little bit extra.
Where To Stay?
Kalbarri Seafront Villas
Book Here
Salt- The Studio
Book Here
Kalbarri Beach Resort
Book Here
Take in more of WA with our Western Australia travel guide on SoPerth.com.au.