Get your pup on a whole foods diet so they can live their best life.
You are what you eat – we've all heard the saying, and it's true for your dog, too.
But what is the best diet for dogs?
It's undeniable that we as people have become more woke to the importance of a healthy, whole foods diet and are making conscious efforts to ditch the processed stuff – so why should our favourite furry friend's diet be any different.
Sure, it's convenient to go grab a can of dog food and chuck it in the bowl on a busy day, but the health issues that can follow are decidedly not so convenient.
Switching to whole foods means feeding your pup fresh, human-grade ingredients to ensure they're getting the nutrients they need in a balanced diet plus more! This includes powerful superfoods with phytochemicals boasting medicinal properties.
We discussed the topic with Dr. Matt Muir, leading Integrative Vet and co-founder of Lyka – a subscription service taking charge of the fresh dog food movement sweeping the country. He gave us some hot tips on why the switch from kibble and other types of processed foods is a no-brainer.
Why your dog needs a whole foods diet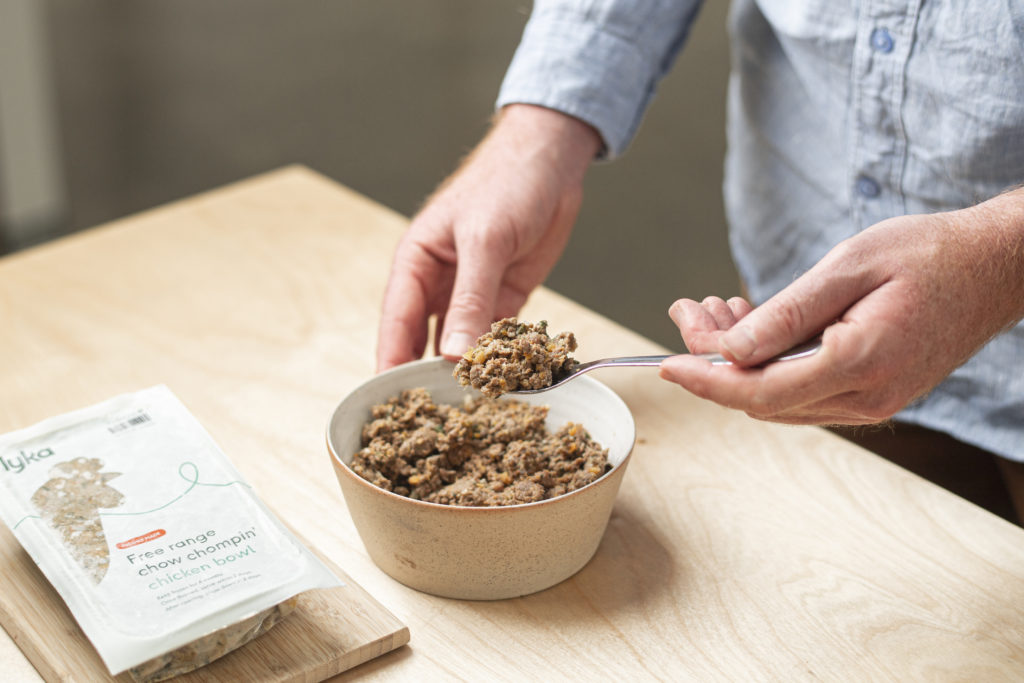 Disease Prevention
Making sure you're including essential nutrients and nailing the right portion size is super important when it comes to preventing common diseases like obesity or skin allergies.
In a large number of cases, where dog skin allergies and irritation are present, diet plays a vital role. Processed foods often contain ingredients that offer little to no nutritional value and aren't overly good for your pup. These types of ingredients can often cause bad reactions and your pup may start to suffer from itchy skin and rashes as a result. Some signs of this might be excessive scratching, licking, rubbing of the ears and face, or visible sores, which often require a trip to the vet and a rather hefty bill.
By taking the first step and feeding your dog a diet more in line with what they should be eating, you'll get much fewer allergy issues and skin problems, and ultimately, less trips to the vet.
Quick tip: Have a look at the first three ingredients listed on the pack of your regular dog food. These should be quality sources of protein rather than things like maize and other grains, which have little nutritious value.
Major lifestyle improvements
Providing your dog with a whole foods diet can help improve their digestion, coat health, bad breath problems, toilet habits and overall mood.
Dr. Muir has seen the impact of a transition to a whole food diet in his clinic. "Time and time again I am blown away by how powerful the impact of a transition to a 100% whole food diet can be for pets' health and vitality," he says. "In clinic, I deal with complex medical conditions that have not responded to even powerful medications that subsequently improve with whole food diets"
Increased energy levels
You know when you eat something bad or get on a sugar high and then feel sluggish and tired afterward? The same thing happens to your pup.
Fresh, whole food ingredients in their diet means an increase in energy levels and avoiding the sugar spike associated with kibble and processed foods.
A longer, happier life
If we could, we'd make all dogs live forever – so if there's a chance to get a few extra years with our best friend, we'll take it.
"Preliminary studies on whole food diets and calorie restriction have shown that pets can live up to 3 years longer when fed a fresh food diet," Dr. Muir says. "I suspect this is due to many factors, but most likely involves the health-protecting benefits of high-grade proteins, whole food antioxidants/phytochemicals, and omega-3, whilst simultaneously avoiding nasties found in highly processed foods like acrylamides, rancid fats and mycotoxins."
Although there is more research to be done, this diet is already proving beneficial for vets like Dr. Muir. "While more studies are needed, there is a growing number of holistic vets like myself promoting the benefits of whole food nutrition in extending the quality lifespan, or healthspan, of pets, the standout being the New York Times bestseller, The Forever Dog," he says.
Fewer trips to the vet
It goes without saying, by focusing on your dog's health from the inside out and preventing disease, you'll be reducing the likelihood of pricey vet visits, and that's a big win for the bank account.
A high protein, fresh food diet can help with obesity management, skin health and digestion, so you can work to prevent common health problems before they turn into a trip to the vet.
It tastes great
Your pup should be eating like the king or queen of the household, and that means not having to munch on food that's been mixed with artificial flavours and colours. The most beneficial diet is one that's high in protein and low in carbohydrates with prebiotic fibre, but most commercial foods are higher in carbs and lower in protein and prebiotic fibre.
Real foods not only taste better, but they also provide you with some peace of mind by knowing exactly what is going into your pet's bowl so you avoid dangerous mycotoxins.
How to make the switch
The switch from kibble and other forms of processed dog food isn't a difficult choice to make once you're aware of all the benefits, and it should be equally as easy when it comes to working it into your daily routine.
Dr. Muir says there are some telltale signs when looking out for processed foods."If a food has a shelf life over 1 year or contains meals, by-products, and synthetic nutrients that you find hard to pronounce or recognise, then the food is likely to be high-heat processed and made from inferior raw materials."
Some may decide to cook their dog's food at home themselves, but that can present its own set of challenges – how much do they need? What nutritional requirements need to be met? Where will I find the time? How much is this all going to cost?
That's where a flexible subscription service like Lyka can step in.
Lyka does all the work for you by planning a customised meal plan for your pup based on their weight, breed, lifestyle and activity level, all conveniently delivered straight to your door.
All the recipes are vet-developed and contain only fresh whole foods and human-grade ingredients, so you'll know that your pup is getting all the essential nutrients they need in the right portion sizes.
To get you started, we're giving our readers 30% off on the first box. Simply use the code SOPERTH30 at checkout. (T&C's: New customers only and not to be used in conjunction with any other offer.)
For more information and tips visit lyka.com.au
---
This is a sponsored post for Lyka – endorsed by So Perth. We value your feedback so please contact us with any thoughts in regards to our sponsored post. Thank you for supporting So Perth and our sponsors.