If you've seen Death At A Funeral or A Few Best Men then you'll want to catch the next chapter A Few Less Men especially as the movie was filmed in Western Australia.
The movie begins with the four lads David (Xavier Samuel), Tom (Kris Marshall), Graham (Kevin Bishop) and Luke (James Helm) at a wedding in the Blue Mountains. Partial to a drink or seven Luke stumbles off a cliff and the lads find themselves tasked with getting his body back to London in time for the funeral.
Things are running smoothly until Pilot Pidgeon (Jeremy Sims) steps out of the cockpit of their private plane leaving Graham alone in a sea of shinny buttons. As the plane inevitably crashes into the bush, back in London Luke's grieving Aunt is consoled by Henry (Ryan Corr) a 'likely lad; not to be messed with.
Queue mayhem in the shape of a music festival, an extremely dubious tea party hosted by Mungus (Shane Jacobson), a feisty grandmother Maureen (Lynette Curran), a disinterested local police officer (Deborah Mailman) and a giant gold penis. With time dragging on Henry is becoming increasingly infuriated.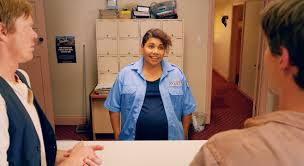 A Few Less Men
is a funny, bordering on silly, easy to watch follow up movie.
It was only by writing this post that I realised how much happened in the movie. At the time I'd been distracted by the endless parade of brilliant Australian actors popping up and the West Australian scenery.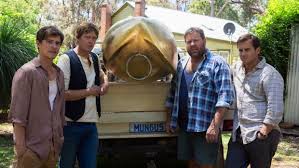 Deborah Mailman was wonderful as the jaded local police officer and Shane Jacobson priceless (I can't tell you much about this). Lynette Curran's Maureen was a delight. Kevin Bishops' Graham is enough reason to go see the movie. He steals the movie.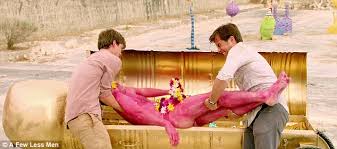 It's always great to see Kris Marshall and a bonus to see Jeremy Sims again. I'll have to watch it again now I won't be as distracted. Make sure you sit through the long list of credits to watch the blooper reel, the cast obviously had a blast making this one. If you're in Australia you might even get to see the real gold penis as we did.
In cinemas March 9th. There will be a special screening and Q&A with the Director Mark Lamprell, Producer Tania Chambers and Co-Star James Helm at Hoyts cinema buy tickets here
.
A Few Less Men Trailer