McQueen is a loving, respectful, inspiring documentary about an extremely complex young man who lived on his own terms. The very definition of a unique, tortured artistic genius, Alexander McQueen emerged from a world of bland political correctness to become one of the most influential artists of the 20th Century. The movie is full of personal insights, stunning visuals and utter heartbreak.  It has all the ingredients for a tragic drama, made all the more impactful by the fact that the story is real.
McQueen tracks the artists beginnings in the East End of London, the youngest of six children. Like so many people who go on to achieve greatness, Lee Alexander McQueen didn't fit in at school. He did however prove to be an intelligent and quick student in his initial job as a tailor's assistant. It was said that he questioned everything and took things in. His passion for fashion was clear from a young age as he was often doodling dress designs.
People would consider him 'talented' however like most talented people he didn't think it was a simple as that.
"You can't teach talent but you can help it get better." Alexander McQueen.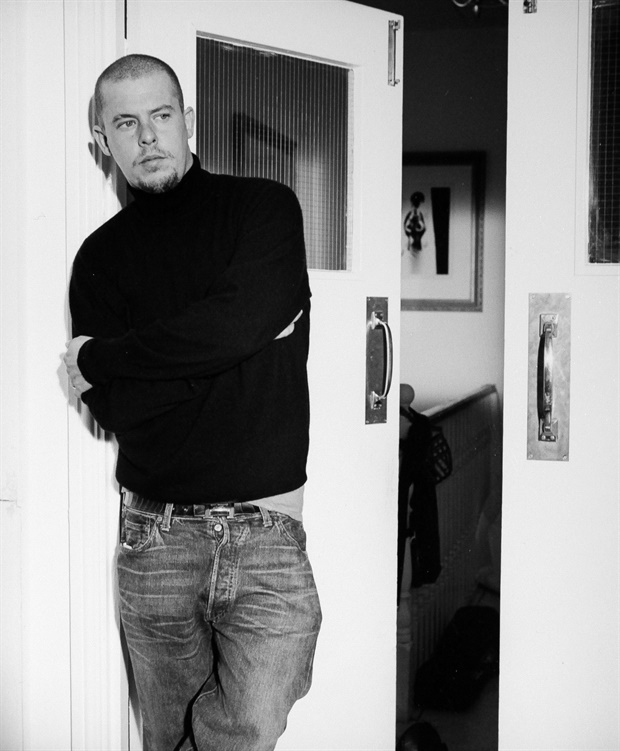 Getting attention in the flashy, high energy world of fashion is not easy, McQueen did so through his shows. With dark fantasies like Jack the Ripper Stalks His Victims
 or the controversial
"Highland Rape" 
they were not your usual straight-forward runway affairs.
"My shows are about sex, drugs and rock 'n' roll. It's for the excitement and the goosebumps. I want heart attacks I want ambulances." Alexander McQueen
Through interviews with family and friends plus never before seen footage including personal recordings taken by the fiercely romantic McQueen, the movie covers a past that included sexual abuse from his brother in law, alcohol and drug abuse, an HIV diagnosis and getting clean, all of which left him with a lot of material to draw from.
Some of that material was molded into successes that included: a graduation collection purchased by Isabella Blow, outfits designed for David Bowie, and an appointment as Givenchy's chief designer. Savage Beauty, the 2015 retrospective exhibition of his work at the V&A in London, attracted a record-breaking 493,043 people in five months.
Described as a sculpture, a magician, he felt he was at his best working.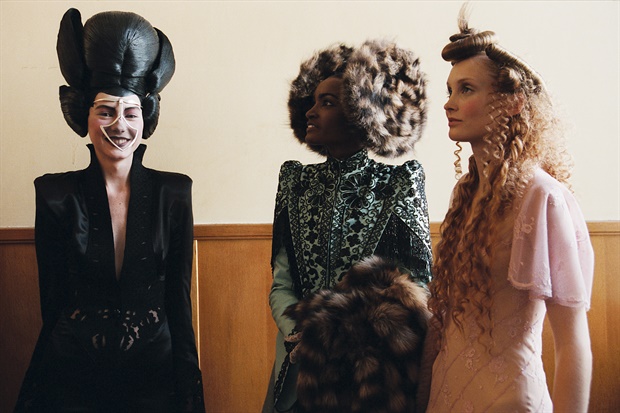 But the fashion industry feeds on anxiety and depression, especially when heading back to an empty hotel room after a successful show. Add to the fact that with great success come great responsibility as staff numbers and expectations grow.
"I had to accept this is my life, it's what I was born to do." Alexander McQueen.
"I'm McQueen when I go home."
"Fashion is a big bubble and sometimes I just feel like popping it." Alexander McQueen
One final ingredient to add to the mix is an addiction personality, with work replacing drugs and alcohol. Not limiting himself to his own designs his work with Givenchy saw him create around 17 lines in one year.  With that much pressure from others and himself something had to give.
"I seem sad about my work sometimes. I am sad, but I'm not bitter. I'm grateful for everything that has happened in my life. But I know when the time is to give it up."
Tragically the time came way too soon on the eve of his mothers funeral when he took his own life.
As I, like the rest of the audience, sat in silence watching the credits roll I considered how counter to most pop culture messages today, it was fascinating to note that the richer McQueen got the more unhappy he became. His greatest period of unhappiness arriving after he had slimmed down and remodeled himself. Outwardly he looked like he had it all. Inwardly he said he didn't feel like himself.
The movie shows the drawbacks of celebrity life and the importance of taking time out. How wonderful it would have been to see what he'd make of today's world.
McQueen is a stunning, mesmerizing tribute to a true romantic, a maverick with a dark side, and ultimately the loneliness of a genius.
Anarchy PR is holding an advance preview night-before-release presented by the Telstra Perth Fashion Festival.