Qantas Perth London Direct Flights – Price War Emerges as Qantas Takes Off March 24
Qantas Perth London Direct Flights:
There's a price war brewing between international airlines as Qantas prepares to launch it's first ever Perth to London direct return flight, set to open up Western Australia for a tourism bonanza.
Prices for flights between Perth and Europe and the UK are set to keep falling, as competition heats up and more Australians travel to Western Australia to use as a launching pad for flights west.
With Qantas offering a promotional direct, non-stop flight ticket for $1271 return for the 17-hour flight, other airlines are keen to ensure you consider their routes as well.
Qatar, Emirates, Etihad and China Southern Airlines – all flying out of Perth – are slashing prices for the hop, skip and jump flights between Perth, the middle-east, Asia and Europe.
Qatar is offering $1120 for Perth to London via Doha; Etihad is offering $1140 via the Abu Dhabi; Emirates is offering $1475 via Dubai; while China Southern can get you there for $955.
Of course, it'll be nowhere near as convenient as a direct, non-stop flight city to city.
The first ever non-stop flight from Australia to Europe will takeoff at Perth Airport, 6.50pm on Saturday March 24.
The Qantas 787 will land at London Heathrow around 5.10am on Sunday March 25.
Qantas Perth London Direct – The Inside of a Dreamliner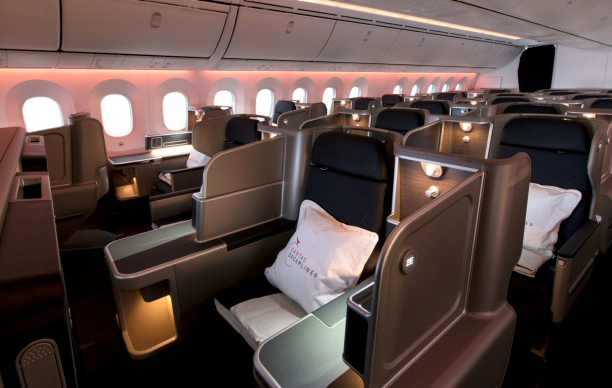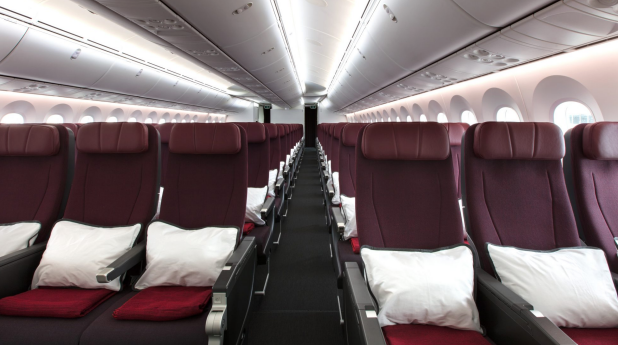 The first ever non-stop commercial flight to London from Australia is just the beginning.
Qantas said it will also add a Perth to Paris route soon.
Meanwhile, Qantas unveiled the menu for their 17hour flight. They have worked with researchers from the Charles Perkins Centre at the University of Sydney and Neil Perry for the in-flight gourmet experience.
Qantas Perth London Meal Menu
Mains (business class)
Tuna poke salad with sesame soy dressing
Seared Cone Bay Barramundi with herb garlic potatoes, broccolini, lemon, olive and almond salsa
Smoked salmon, soba and raw zucchini noodles with ponzu dressing
Roast English beef with Yorkshire pudding, peas and onion gravy
Poached egg, kale, quinoa, grilled haloumi, pistachio and green tahini dressing (breakfast)
Mains (premium economy and economy)
Marinated beef, citrus, cumin and zucchini salad (Premium economy and economy)
Roast chicken with red rice, Mediterranean vegetables, soy beans and thyme jus
Refreshments
Dip and crudite platters (served in all classes)
Tomato and mushroom puff pastry tart with corn salsa (mid-flight refreshment in premium economy)
Desserts
Baked vanilla custard with rhubarb, honeyed pear and almonds (business class only)
Seasonal fruit plate (all classes)
Sounds pretty good?
Facts about the Qantas Perth London Flights
FAST FACTS – PERTH TO LONDON

The Boeing 787-9 Dreamliners used on the route will carry 236 passengers across Business, Premium Economy and Economy cabins.
The 14,498km flight will take approximately 17 hours (slightly more or less depending on winds).
When it launches, is expected to be the third-longest passenger flight in the world. Longest flight on the Qantas network, followed by our non-stop A380 Sydney-Dallas service (13,730km).
Will be the longest Boeing Dreamliner flight in the world.
The first regular passenger service from Australia to Europe adds to Qantas' list of flying firsts, including:
First passenger jet services across the Pacific in 1959 with a B707.
First (and only) non-stop passenger flight from London to Sydney in 1989 with a B747-400.
First to operate the world's largest passenger aircraft (A380) on the world's longest route (Sydney-Dallas) in 2014.
Perth was also used as a stopover on flights to London between the 1940s and 1960s.
In 2015, Qantas operated a one-off B747-400 charter flight from Perth to Istanbul to take Australians to the Centenary of Anzac at Gallipoli – the last time the national carrier flew from Australia to Europe non-stop.
Perth to Europe return? Who's coming with you? Tag them on our Facebook post ->
Related Articles:
Qantas Australian Tourism Awards : WA Wins 8 Gold
Top Ten Outdoor Adventure Ideas in Western Australia
South Fremantle Power Station : Development for Perth Coast Underway
Top Ten Outdoor Adventure Ideas in Western Australia
Perth to Buenos Aires Direct Flights Coming
Rottnest Swim : Solomon Wright Wins in Record