Latest update: BOM Perth Update – Latest Perth Storm Update
Dubbed the storm of the decade!
From perfect sunshine one day, to one of the most severe storms the next. Bureau of Meteorology has put Perth and the west coast of WA are put on alert as storms are expected to hit from early Sunday morning all the way through to Sunday night.
Perth weather warning issued
In the north-west damaging winds averaging 60 to 70 km/h with peak gusts to 100 km/h are predicted in coastal areas between Onslow and Kalbarri, including Exmouth, Carnarvon and Denham, from early Sunday morning.
These winds will extend to the southwest in a line from Onslow to Meekatharra to Kalgoorlie to Esperance, including Geraldton, the Perth Metropolitan area, Mandurah, Bunbury, Busselton and Albany during Sunday afternoon and evening.
These regions can expect damaging winds averaging 80 to 90 km/h with peak gusts of around 130 km/h are possible.
Watch: Bureau of Meteorology Perth storm forecast per hour
Locations which may be affected include
It's not often the whole of the west coast are within the warning area, but that is exactly what can be expected on Sunday as the storm arrives from 5am in the northwest moving down the west coast towards the southwest throughout the day.
Expected rainfall
Bureau of Meteorology expects rainfall totals in Pilbara coastal areas around 20-40mm with isolated falls from Karratha to Kalbarri near the coast of up to 100 mm.
Further heavy falls are expected down the west coast from Kalbarri to Albany with totals of around 20-30 mm and some isolated falls up to 70 mm.
Much of the Wheat Belt is expected to see falls of at least 5-10 mm, with areas closer to the west coast expecting 10-20 mm.
Perth Weather forecast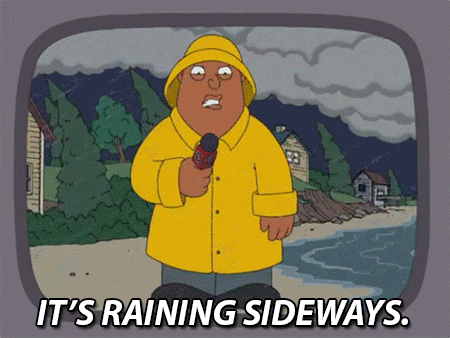 While Sunday will be the worst of the storm the cold and wet weather is here to stay for the remainder of the week.
Sunday: Min 15, Max 21 (Cloudy, very high (near 100%) chance of rain, in the afternoon and evening)
Monday: Min 11, Max 19 (Cloudy, high (70%) chance of showers)
Tuesday: Min 9, Max 18 (Cloudy, slight (30%) chance of a shower)
Wednesday: Min 10, Max 20 (Partly cloudy. chance (50%) of showers)
Thursday: Min 11, Max 21 (Partly cloudy. very high (95%) chance of showers)
Friday: Min 10, Max 17 (Partly cloudy. very high (95%) chance of showers)
Saturday: Min 4, Max 17 (Partly cloudy, chance (50%) of showers)
Emergency Services advises
The Department of Fire and Emergency Services advises that people should:
If outside find safe shelter away from trees, power lines, storm water drains and streams.
Close your curtains and blinds, and stay inside away from windows.
Unplug electrical appliances and do not use land line telephones if there is lightning.
If boating, swimming or surfing leave the water.
Be alert and watch for hazards on the road such as fallen power lines and loose debris.
Keep away from flooded drains, rivers, streams and waterways.
Be careful of fallen trees, damaged buildings and debris.
Be careful of fallen power lines. They are dangerous and should always be treated as live.
Assess your home, car and property for damage.
If damage has occurred take photos and contact your insurance company to organise permanent repairs.
If your home or property has significant damage, like a badly damaged roof or flooding, call the SES on 132 500.
A taste of things to come?
Optus Stadium disappearing act as a Perth storm sweep over the stadium.
Watch: The Bureau of Meteorology and Department of Fire and Emergency Services provide a Perth weather update on the severe weather forecast for WA.
For further weather alerts and update visit bom.gov.au.
More Perth news and Perth coronavirus updates on SoPerth.com.au.