Beware: a visit to Shark Bay may leave you bitten.
No, not by its namesake but by the adventurous travel bug of wanting to explore more of its multi-hued natural beauty both above and below sea level. And did we forget to mention its varied and vivid marine life too?
Shark Bay's spectacular scenery goes unparalleled, earning the crown as Western Australia's first UNESCO World Heritage Site in 1991 for its distinctly exotic blend of wildlife, flora and landscapes found like nowhere else.
From a beach beautifully littered with seashells (Shell Beach) to a natural rocky Tetris-like strewn-coastline (Stromatolites at Hamelin Pool), Shark Bay has many unusual natural spectacles contributing to its landmark status.
There is a lot to see and do over its 2.2 million hectares. We can forgive you for being overwhelmed where to start in this stunning natural wonderland, just eight hours drive north of Perth or two-hour flight to Monkey Mia airport (and 10 minutes' drive from central hub Denham). Luckily for you, we have highlighted Shark Bay's best natural bits to reel you in for an epic getaway in the bay.'
Who calls Shark Bay home (and what to spot!)
Expect to get wet as there is plenty of adventure to dive into at Shark Bay. We recommend putting on a snorkel and fins and making a splash to spot its fauna with flippers – dolphins, sea turtles, plenty of fish – and crustaceans.
Shark Bay also takes the title of being home to the world's largest population of dugongs with over 10,000 found in the region. These mesmeric cows of the sea are the only marine mammals that champion a herbivore diet and thus are attracted to Shark Bay's waters for its 12 species of seagrass found in the area. The ocean giants can weigh over 400 kg and reach up to three metres in length. Interestingly, dugongs are more closely related to elephants than fellow sea residents, whales and dolphins.
A great starting point to learn about the biodiversity of the region is to head to the Shark Bay World Heritage and Discovery Centre. Or to have a close encounter with Shark Bay's famous marine residents, head to the award-winning Ocean Park Aquarium and learn about the area's conservation efforts.
Get friendly with dolphins at Monkey Mia
Shark Bay's Monkey Mia Reserve is world-renowned for its up close and personal meet and greets with its friendly residents, bottlenose dolphins. Cue cuteness!
The wild dolphins almost adhere to a daily routine, with visiting Monkey Mia's shore up to three times a day to interact with humans for a shallow feed. These remarkable encounters occur more frequently in mornings, with feedings by rangers between 7.45 am and 12 noon in a designated area.
There is a small entry fee to enter the reserve however having your moment with the dolphins is free and worthy of the squeals of delight!
Where to see natural wonders in Shark Bay
We have spoken of the extraordinary aquatic sights, now its time to hit the dirt road on a four-wheel driving adventure.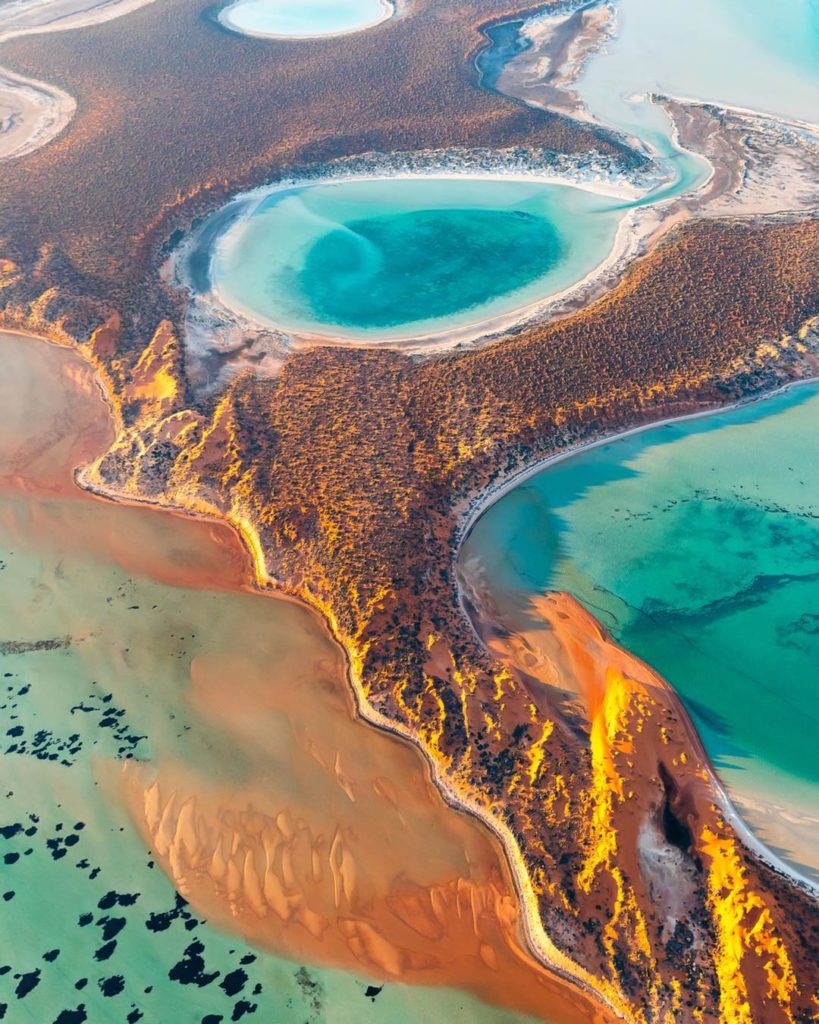 Shark Bay's Francois Peron National Park is one of a kind with its unlikely marriage of desert and ocean setting of dramatic red cliffs and pearl white sandy beaches so take in those beautiful, bold hues!
A four-wheel drive is needed to traverse the northern part of the park to have an all-encompassing experience of the park's abundant wildlife which includes spotting Shark Bay's 17 mammal species, 98 reptile species and amphibians. Prepare to play some bird bingo too, with over 230 bird species darting the region's skies. Hop on-board a Wula Gura Nyinda Eco-Cultural Adventure
tour if you don't have the big wheels needed to navigate the national park.
Outside the park, head to see evolution-in-the-making, Hamelin Pool Stromatolites. They are the oldest and largest 'living fossils' in the world. Play botanist for a day and observe what earth may have looked at some 3.7 billion years by walking across a purpose-built jetty to have a birds eye's view of the stromatolites. Head a 45-minute drive north of Hamelin Pool Stromatolites to arrive at another surreal sea-scape – Shell Beach. Forget sandy shores as Shell Beach has its shoreline 10 m piled deep with its namesake across 70 km. It is one of the few places in the world where a dramatic shell-dominated coastline exists with billions of teeny tiny white shells making one iconic grandiose setting.
---
This is a sponsored post for Australia's Coral Coast– endorsed by So Perth. We value your feedback so please contact us with any thoughts in regards to our sponsored post.