The subtitle of the exhibition When the Sky Fell is Legacies of the 1967 Referendum. Prior to the opening night at PICA I didn't having a strong understanding of the Referendum, afterwards I can say that my eyes have been opened a little further. Still I don't profess to knowing enough about the impact to comment. What I can comment on though is the utterly unique art on display.
First was the work by Mervyn Street (shown above). Seated just inside the gallery Mervyn dragged a fine paintbrush through a layer of sand. Just as I was taking in the final product he waved a larger paintbrush through his work and it was gone, he was onto another one. Every now and then he threw on some more sand. It was fascinating watching these simple pictures appear only to be captured by a mobile phone that was hanging over them, and be beamed out to the public via the large screens in the Northbridge Piazza. A wonderful marriage of heritage skills and modern technology.
The images also make up a video situated on the floor in one gallery room. Having the screen on the floor was an excellent idea. It feels like you're looking at pictures being drawn on the ground. Here's a link to the video, hopefully it works – click the link below. If it doesn't I'll be adding it to my YouTube channel soon. Or you can try my blog www.theponderroom.com on Monday when the post will be up there plus a few more photos from the exhibition.
When the sky fell sand drawing
The exhibition includes work from a diverse range of indigenous W.A artists, for example pictures on saddles …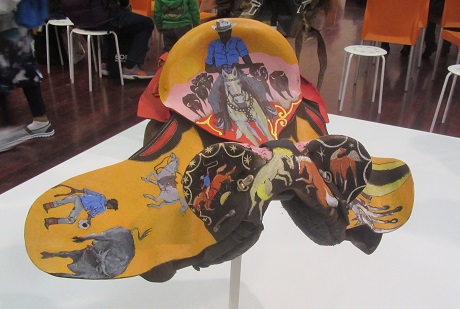 on satellite dishes …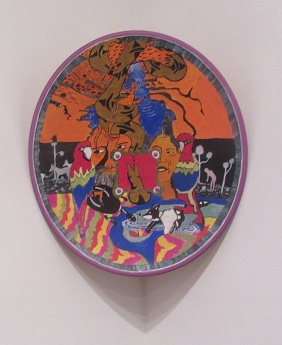 The opening celebration included a traditional Indigenous dance performance from Moorditj Moort dancers …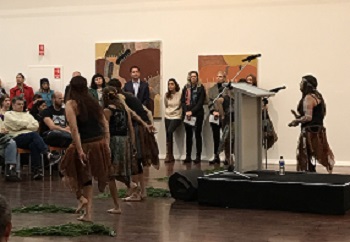 a few words from some of the artists …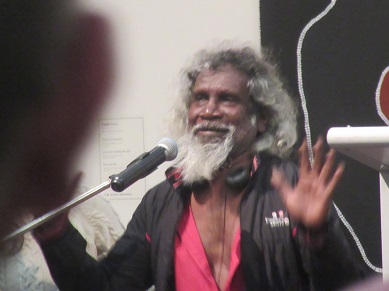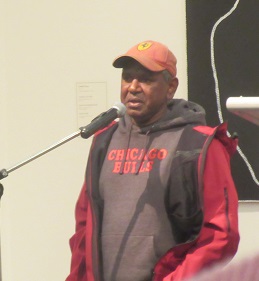 and some from the Minister who outlined the importance of Indigenous communities in WA's future.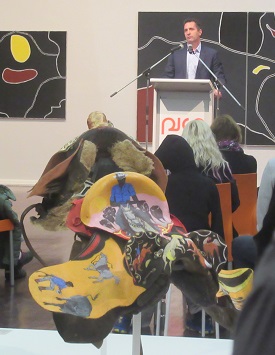 Aside from paintings on canvas there is a large image which has been painted directly onto the wall.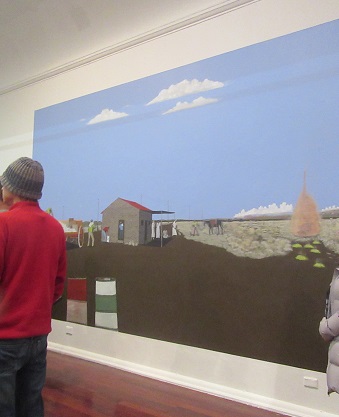 The exhibition is presented in partnership with the Aboriginal Arts Centre Hub of WA.
As I watched the large crowd taking in the wide range of art and Mervyn brush away another image I was reminded of the Buddhist mandalas I'd seen in Melbourne. Another reminder that life is fleeting and we should get on with it.
Also fleeting is the large wall painting by Mervyn Streets which will go once the exhibition finishes, so make sure you get to see it. It's a stunning looking exhibition, congratulations to all who put this together and thank you to the artists.
When The Sky Fell runs from 2 July – 20 August at the Perth Institute of Contemporary Arts.
For more information go to PICA.