Collie 2 hours south of Perth is the town with the most and a must for any WA road trip.
If you have never been to Collie, well it's about time you packed up the car and headed a couple of hours south to a town with the most.
Not only does Collie and the surrounds already boast some of Western Australia's best swimming holes and camping locations, but through the most recent addition of world-class mountain bike trails and the Wellington Dam mural – Collie is definitely so hot right now.
We have listed the 8 reasons why you need to head south to Collie to start your getaway/day of adventure.
Wellington Dam
Just 25 minutes outside of Collie you will discover Wellington Dam.
While Wellington Dam was a destination in itself before 2021, now it is one of the most impressive in the state thanks to a 8,000 square metre mural covering the dam wall.
The team behind the mural's commissioning and development believe it to be the world's largest dam wall mural.
The mural is called reflections' and is inspired by local stories and photos.
Black Diamond Lake
Source: @eviescapades
Have you witnessed the stunning blue waters of Black Diamond Lake?
Situated only 2 hours drive from Perth – Black Diamond Lake is located 5km west of the coal mining town of Collie and is considered by many as the number one swimming hole in Perth.
Black Diamond Lake is best experienced on a clear, sunny day as the lake sparkles and radiates a magnificent blue colour, making it some of the bluest water you will ever see and a road trip must from Perth.
Read more: Visit Black Diamond Lake
Honeymoon Pool
Honeymoon Pool (Source: @sssssoopph)
You will instantly and of course 'Insta' fall in love with Honeymoon Pool – a swimming hole paradise located on the banks of the Collie River.
Going to the beach was so 2020 – surrounded by bushland as it reaches right up to the edge to meet the water, Honeymoon Pool provides a truly unique swimming hole experience.
Read more: Visit Honeymoon Pool
Long Pool
Long Pool – Swimming Hole (Source: visitcollie.com.au)
Not to be confused with the above Honeymoon Pool, which has happened more than a couple of times with Instagram location tags, Long Pool is yet another stunning swimming hole and picnic spots along Lennard Drive in the Wellington National Park near Collie.
You will be taken away with the beautiful bushland surroundings of Long Pool with weeping peppermint trees as they grace the banks and the waters shimmering blue and green, reflecting the sky and surrounding bush – very Instaworthy.
As it is not yet marked on Google Maps and Lennard Drive is also not named you will find the swimming hole between Falcon Road near the Dam and River Road near Honeymoon Pool.
Get Directions: Long Pool Directions
Read more: Visit Long Pool
Lake Kepwari
The new kid on the block in Collie is Lake Kepwari.
The lake is a former coal mine that has now been filled with water from the Collie River and turned into a recreational fun land with plenty of room for water-based activities such as boating, water skiing, swimming and Canoeing
For those that don't want to spend too much time on the water there are also designated picnic areas and campgrounds.
Read more: Visit Lake Kepwari
Stockton Lake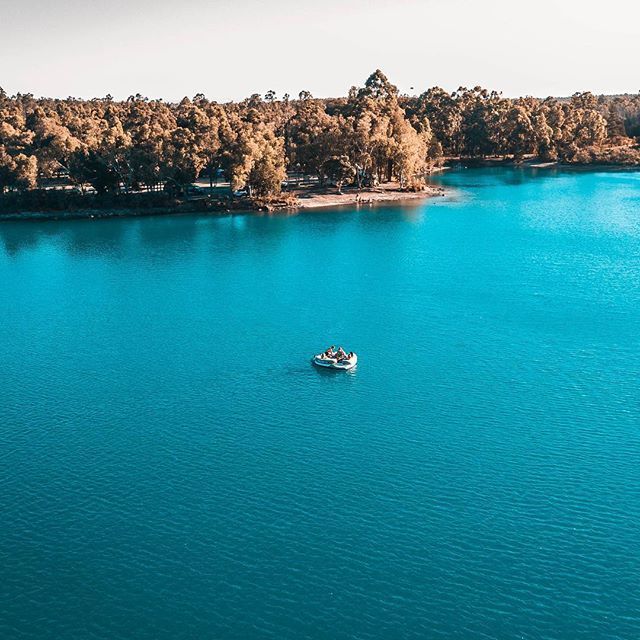 Source: Instagram | @paulpressney
Stockton Lake ticks all the boxes and more as you can set up camp metres from the crystal blue water's edge.
Situated just 10km east of Collie you will find this camping paradise that is perfect for a quick weekend getaway with your partner, mates, family or even just for some special time with your best mate (Stockton Lake is dog-friendly.)
During the peak (warmer months) you will expect to see boats zipping around the lake with water skiing/tubing allowed, however for those far less adventurous the waters are perfect and calm for kayaking, supping, swimming or to simply float on your unicorn float.
Read more: Visit Stockton Lake
Minninup Pool
Mountain Biking
Minninup Pool (Source: @whyivisitcollie)
A favourite Collie swimming hole to cool off on hot days for generations, Minninup Pool is located on a bend on the Collie River, just out of town.
Minninup Pool is fairly deep making it perfect for swimming and kayaking with the ability to kayak on calm water for several kilometres in either direction on certain days.
The calm conditions also make the pool perfect for a relaxing and peaceful float while you let the world pass you by.
Once you have cooled down in the water there are numerous shaded picnic tables along the grassy bank where you can enjoy a bite and take in the scenery.
Read more: Visit Minninup Pool
Collie isn't all about swimming hole chills, you can also seek adventure in the bushlands.
Thanks to a $10 million Collie Adventure Trails initiative, Collie is becoming the premier 'trail adventure town' in WA.
When it comes to taking in the scenery or getting the adrenaline pumping there is no shortage of trails surrounding Collie.
BYO bike or you can even rent one via Kiosk at the Dam.
Collie trails: Collie MTB
Discover more of WA with our guide to WA's best travel ideas on SoPerth.com.au.