Everything you need to know about an escape to Dwellingup.
Looking for a country escape that's not too country per se? Travel only an hour and a half from Perth, and you will arrive at natural delight, Dwellingup.
The charming town appeals to the outdoor types, with its stunning forested jarrah and marri tree campgrounds, countless bushwalk, and mountain biking trails all set along with the serene backdrop of the Murray River. And it's not just the pull of nature that lures folk to descend on Dwellingup.
With wineries, creative galleries, cute cafes, and a heritage tourist railway, Dwellingup is a low-key getaway with all the country magic.
If you're looking for a breather from the big smoke, head to where you can inhale that fresh forest air by checking out this list of things to do in Dwellingup.
Things To Do in Dwellingup
Have a ride on a real-life choo choo train
Time travel may not be an actual thing, but you can experience what once was with a ride along the iconic Hotham Valley Tourist Railway, established in 1974.
There are three historical trains to catch – Forest Train, Steam Ranger, and Restaurant Train – journeying the state's last surviving lightly built railway through forested and farmlands. If your childhood dream was to hitch a ride on with train icon Thomas the Tank Engine, this would satisfy that long-lost wish.
Each Saturday and selected Friday evenings, the Restaurant Train hosts five-course dinners in its antiquated 1919 Vintage Dining Car and 1884 Club Car. Throughout the elaborate dining experience, the train will travel through the forest, which is softly lit up from the train. A fantastic train trip to be had right in our backyard.
Visit: Hotham Valley Railway
Be inspired with designs
Add a cultural touch to your nature-based escape with a visit to this multi-purpose artist-run exhibition, holiday accommodation, and quaint garden café.
The 1940-built refurbished 150 square metre exhibition space hosts a rolling program of solo and group exhibitions, mostly featuring south-west region and resident artists. Open Wednesday and Friday, 11am – 2pm and Saturday and Sunday, 10am – 4pm.
Visit: Lost Eden
Things to eat in Dwellingup
Have the pie of your life
Make the mandatory pie stop at the award-winning Pinjarra Bakery. The Great Aussie Pie Comp winners know a thing or two about creating crowd-pleasing pies with concoctions to make a traditional pie baker blush. But if you are the one that needs to eat the OG, their gold medal-winning beef mince pie will not disappoint – no sauce required.
Visit: Pinjarra Bakery
Mingle with the locals
Want the full-blown country pub experience? Mingle with locals over a brew at Western Australia's only community-run pub, The Dwelly Pub. The old-timer waterhole delivers on those traditional pub grub hearty feeds and lip-smacking specials. If in town on a weekday, they do have Tradies nights, but best to leave the kids at home.
Visit: The Dwelly Pub
Have a fruitful froth
Wine Tree Cidery is a weekend treat. Opened from 11am until 3pm on weekends, this boutique cidery producers small-batch wines and ciders, so you know you are onto something special and unique. Pick up a few bottles of column A and column B while en route and savour for later.
Visit: Wine Tree Cidery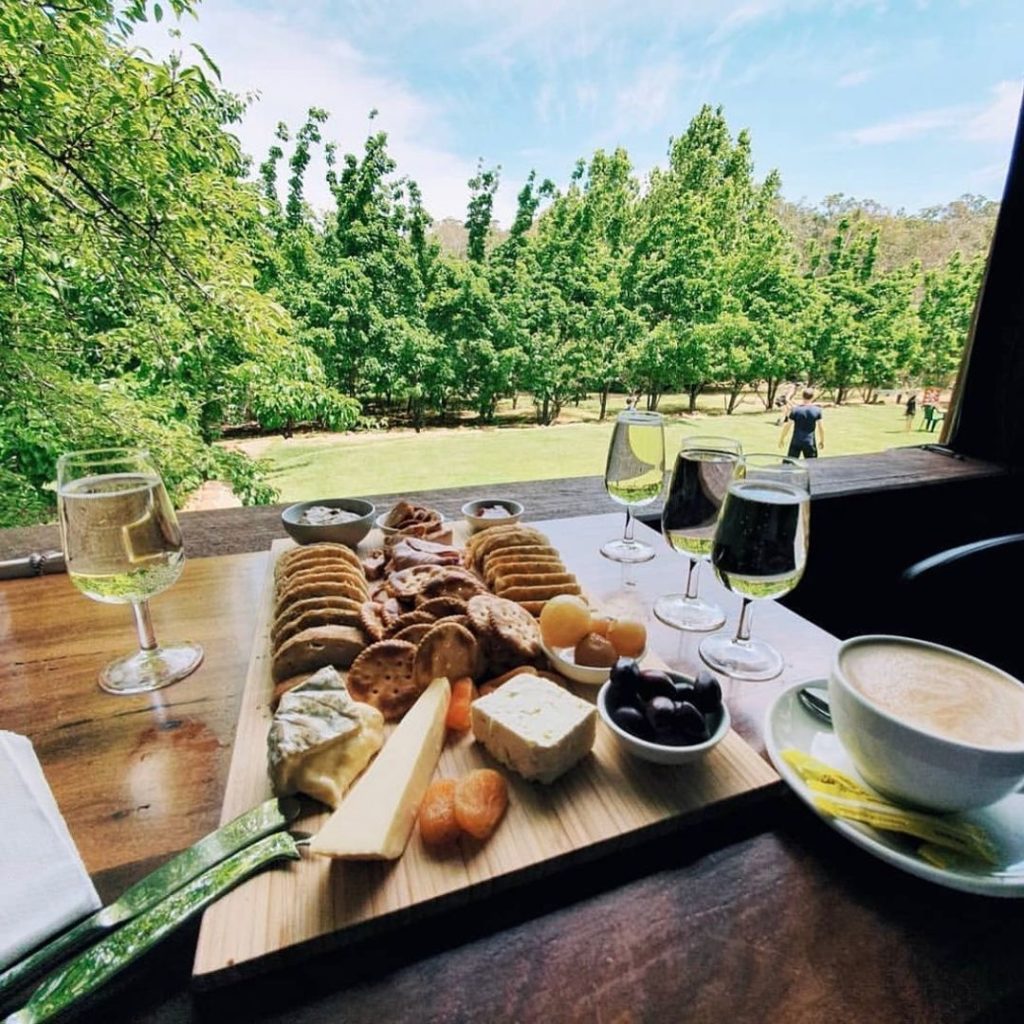 Fill up the fruit bowl at Vergone's Fruit Stall
Dwellingup's healthiest institution, Vergone's Fruit Stall is a country treat. A local favourite, the vendor stocks fresh fruit and vegetables alongside tasty homemade baked sweets, soups, and jams. Open on Thursday to Sunday from 8am to 5pm, it's a great pitstop to make your trip is that extra bit wholesome.
Visit: Vergone's Fruit Stall
Where to stay in Dwellingup
Pitch a tent at Lane Poole Reserve
Lane Poole Reserve is Dwellingup's premier campground and only a short, blissful stroll to the banks of the Murray River. There is no shortage on where to pitch a tent with over 150 campsites scattered across nine campgrounds. Picnic tables, BBQs, fire pits, and toilets spread throughout the jarrah forest. Our picks are Tonys Bend, Baden Powell, and Stringers for smaller groups but for a larger gathering, head to Nanga Mill.
Visit: Lane Poole Reserve
Make a splash in the Murray River
Pack your bathers to have a splash in the serene waters of the Murray River within Lane Poole Reserve. The river is perfect for relaxing kayak or canoe adventures surrounded by Dwellingup's natural assets but just be careful when the weather gets wild.
Go on a path less discovered with bushwalking and mountain biking
Jarrah forests, wattles and wildflowers, oh my.
Lane Poole Reserve is a top spot for hikers to make a move, with plenty of bushwalks varying in length and difficulty. Some of the most popular signposted walks include Island Pool Walk Trail (one hour) and Nanga Brook Walk Trail (90 minutes one way). These trails also share some of the same sections as mountain bike trails, so be on the lookout.
For a more epic walkabout, take a stroll along the dog-friendly King Jarrah Walk Trail. The 18km loop starts at Nanga Mill townsite in Lane Poole Reserve and passes the estimated 300-year-old plus, 47-metre-high tree known as the 'King Jarrah'. The walk is expected to take five hours to complete, so make sure you pack snacks and ample water with you.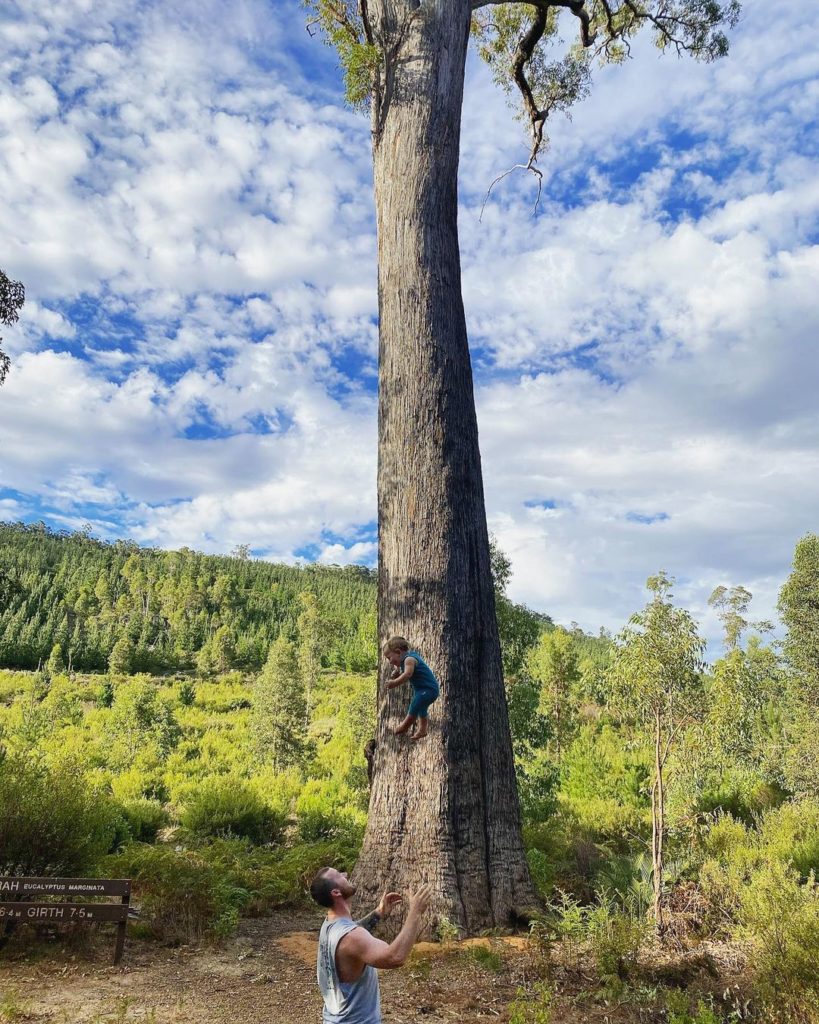 There are also sections of the 1000km Bibbulmun track that you can walk along in the park to claim bragging rights for completing a portion – even if it's super small!
Just with bushwalking, there are many mountain bike trails to spin your wheels and peddle forth. Lane Pool Reserve is home to the Murray Valley Mountain Bike Trails, with downward trails ranging from beginner to pro. Your fast-paced efforts will be rewarded with stunning views overlooking the Murray Valley at the top of the trailhead. But if you want to soak up the scenery while on the go, make sure to observe the native flora and fauna you pass along the way.
There are five easy green trails, eight moderate blue trails and one advanced black trail so just make sure to choose a trail to suit your skillset.
Visit: Destination Murray
Feature Image: Visit Dwellingup
Further WA travel reads:
For further Western Australia travel inspiration on SoPerth.com.au.