Our guide to everything there is to see and do in the Perth Hills John Forrest National Park
Just 30 minutes from the Perth CBD, John Forrest National Park is one of our favourite day trips, with waterfalls, walking trails and great swathes of jarrah forest to immerse yourself in.
The area offers an untouched wilderness – and it's not by accident, it is one of the oldest conservation areas in all of WA and was proclaimed a national park more than 100 years ago.
Go chase some waterfalls
There are two main waterfalls that the park is known for, Hovea and National Park Falls (creative name right).
The best times to see each are in winter or spring when there is more rainfall.
Hovea Falls run down a big piece of granite, while National Park Falls offer the more conventional water dropping directly down from a 20m sheer cliff.
Neither are really for swimming, so don't be disappointed if you don't get more than ankle-deep into the freshly flowing waters.
Take a hike
Whether you're in for a stroll or a full-on trek, there's something for everyone.
For an easy one hour loop, the National Park Falls walk is 2.5km all up, and will take you around – you guessed it – the National Park Falls. You'll walk along the Railway Reserves Heritage Trail, and along the Jane Brook. Not bad at all for 2.5km!
If you want an even shorter stroll, you can do just the Jane Brooke Promenade walk, a 300m loop that should take you 30 minutes all up. The trail is paved so it is suitable for prams and wheelchairs.
On the harder end of the spectrum, you've got the Eagle View Walk Trail, a 16km loop that will take you about five hours. The walk is a bit less travelled and will reward you with spectacular views right out to the Perth skyline.
For a trail that's good in spring, the Wildflower Walk is a perfect way to see a few of the 500 species of flora that grow in the area in just under two hours.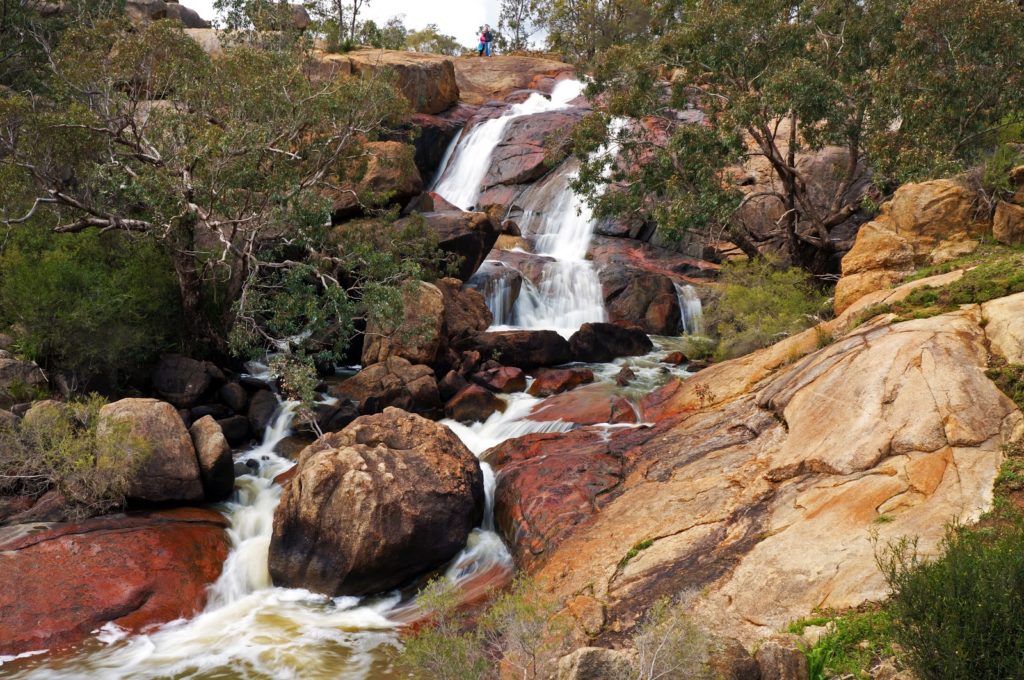 Keep an eye out for the wildlife
There are heaps of animals to see here, from mammals, birds, reptiles and frogs.
A lot of the mammals are nocturnal, but you will be guaranteed to spot some kangaroos relaxing near the local tavern.
For bird watchers though, the park is a low key paradise, with everything from the tiny blue wren to the enormous wedge tail to look out for.
John Forrest Tavern
Speaking of the tavern, after hiking around the trails you will no doubt be a little thirsty, and the best way to treat your hard-earned thirst is with a cold one at the John Forrest Tavern.
The tavern also dishes out some quality and quantity eats which will be sure to hit the spot for those who have worked up an appetite as well.
But, the best part of the tavern is that some of the local kangaroos actually jump the fence into the tavern and are happy for all the pats and scratches you wish to give them.
John Forrest Details
Entry Fee: $8 – $15 per car
Where: Park Rd, Hovea WA 6056
Please note: There are three entrances to the park off Great Eastern Highway. The gate at the western end of Park Road scenic drive is locked at 4pm daily.
Feature Image: @michael_phillips_photography
See Also: