Watch some autumn leaves fall in Perth at these 7 locations
Autumn scenery is truly breathtaking. Yellow, golds, oranges, and reds painting the floor and adorning the trees – it can truly be a sight to behold, but where exactly do we behold it?
Perth might not be the first place you think of when it comes to making the most of autumn's glory, but we've still got some decent spots to catch a few glimpses.
Bickley Valley
If you're in the know of little Perth wonders, then Bickley Valley tucked away in the hills is probably at the top of your list for a little cooler month visit.
Just 35 minutes out of Perth, it's a particularly perfect spot to catch the scores of colourful autumn leaves throughout vineyards, gardens, and rolling orchards. Make a day of it and you'll find yourself indulging in fresh local produce, tranquil scenery, and tastings of hand-crafted wines and ciders – now that sounds like our kind of weekend.
---
Hyde Park
You wouldn't usually think to look city ways, but this inner-city park is positively blooming with some of the best autumn leaves (and scenery) in Perth.
Sitting on Vincent St & William St, the popular area is a hot spot for avid picnic enthusiasts and families looking for a day at the park. The lake makes for a peaceful walk while surrounded by a backdrop of trees shedding their green coats, and there's plenty of food just nearby to set up for lunch and enjoy the view.
---
Raeburn Orchards
We've said it before and we'll say it again, you HAVE to visit Raeburn Orchards this autumn.
Its popularity has soared over the last few years with a surge of images popping up on Instagram, leading many keen photographers or dedicated grammers into its midst to snap their own shots – and it's easy to see why.
You really can't get much better than this for some autumn leaves viewing, just be mindful that they are a functioning orchard so they will charge a small entrance fee of $5 (children under 12 free).
---
Applecross
You're probably aware of the reputation Applecross holds in Jacaranda season, but an autumn drive here will also reward you with some pretty colourful orange and red sights- namely on Kintail Road and Ardross Street where the trees line the sidewalk.
---
Ballingup
Blackwood Valley Region is often hailed as one of the most scenic wine trails in WA, so naturally, it's a top pick for getting immersed in the autumn glow.
The charming country towns and rolling hills leading to endless vineyards producing sensational wines are just some of the reasons we love it here, but one such town has the best autumn views. Ballingup, about 30km south of Donnybrook, will have you catching an array of falling leaves in its surrounding orchards, forests, and farmland.
---
Araluen Botanic Park
A real gem out in Roleystone, Araluen Botanic Park is definitely one of our favourite spots to soak up some scenery.
It's a popular spot during the spring festival with its abundance of tulips, but we reckon it's just as good over autumn. The deciduous trees take on the gold and red tones in a splash of colour as you explore bush landscapes, gardens, and a range of events held throughout the year.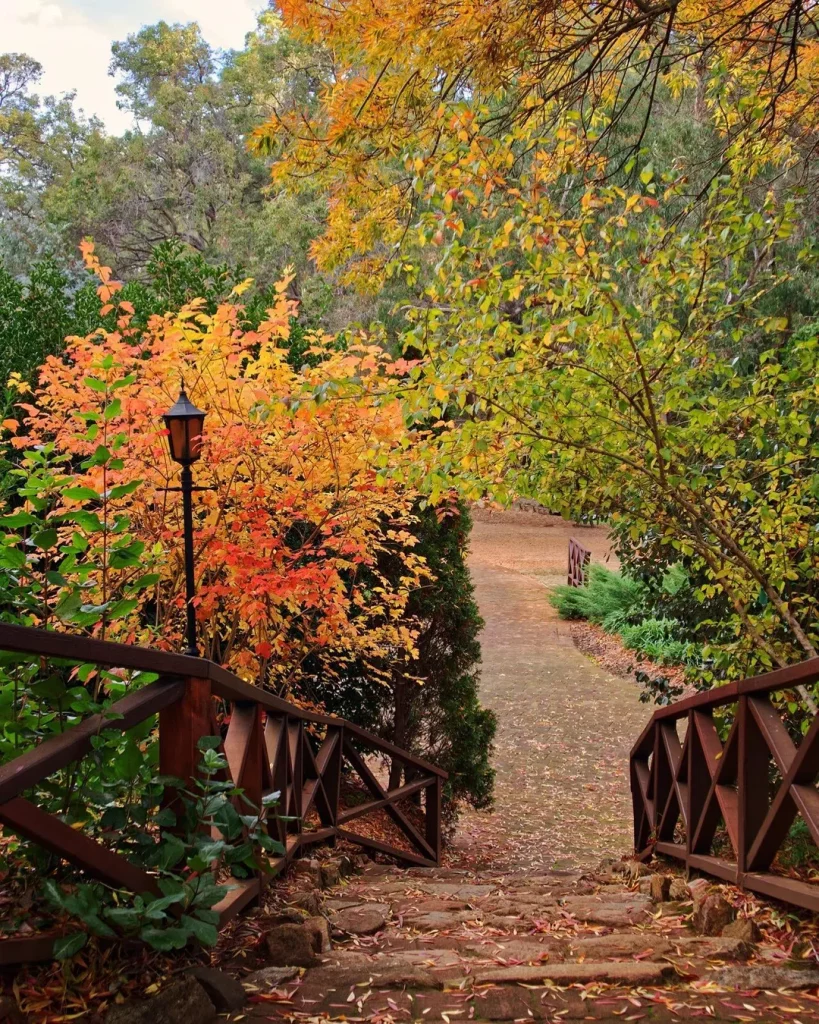 ---
Mounts Bay Road
If you're planning on heading in or through the city, make a quick detour to Mounts Bay Road for a relaxing drive under the trees.
The street by the Narrows Bridge off-ramp does provide some great viewing, even if it's not the most 'scenic' of the nature-filled places listed.
---
Feature Image: @ipieroo
Need more things to do in Perth? Visit SoPerth.com.au
See Also